My View
BY DON SORCHYCH | JULY 10, 2013
Cave Creek fired up
I have been overwhelmed with angry letters, emails and phone calls since Mayor Vincent Francia sent his letter on June 27. First the mayor said, "I am very excited" about the great things happening in Cave Creek and he praises the disastrous election of four slate members that resulted in firing the best town manager Cave Creek has ever seen. And it doesn't stop there since the firing was done by rookie Adam Trenk who was warned each step he made by Attorney Dan Bonnett, who I believe is planning to file a lawsuit against Cave Creek and some council members on behalf of former Town Manager Usama Abujbarah. The lawsuit will be costly and will last at least until the recall vote which is being planned and funded.

Rumors abound about who wrote the letter which was stamped with Francia's name. First of all the letter has numerous grammatical errors, unlike the hundreds of well written letters we have seen by the mayor. The bets were either Rodney Glassman or Adam Trenk wrote it since neither are wordsmiths, as is Francia. Francia admitted Glassman wrote the letter and he signed it so it could be included in the water bill. Francia said he didn't know the letter was mailed as well. This is another example of the town (not) saving money, which was another slate platform.

To summarily dismiss a town manager with the heroic dimensions of Abujbarah is unforgivable and has many legal overtones as well.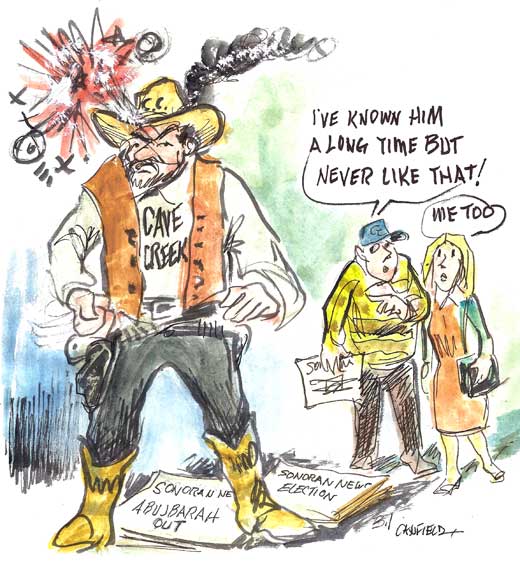 This all started as I predicted when Mike Chutz rode into town and climbed aboard a local dispute regarding a planned resort. He raised money and assembled all the nay sayers and hot heads in and out of town. They conned the public with false assertions and phony promises. Trenk won in the primaries after spending about $25,000. So did Ernie Bunch, after not spending a penny, and Bunch got only two votes fewer than Trenk.

All the other council members, except Steve Lamar, qualified to be in the runoff but they all resigned, except Thomas McGuire, sealing Abujbarah's fate, since removing Abujbarah was a slate manifesto.

Both Trenk and Reg Monachino lied to Francia, asserting they wouldn't vote to remove Abujbarah, but only "rein him in." They lied, of course.

It was bad enough they removed Abujbarah, but it is a slap in the face to replace him with the completely unqualified Rodney Glassman. When two very left wing publications like The Phoenix New Times and the Tucson Daily Star damn him seven ways from Sunday it is clear he leaves much to be desired, even as a Democrat.

A local peace maker invited Abujbarah and Trenk to the el Encanto restaurant on June 2 to see if their differences could be ironed out. It has been alleged Trenk made two demands, 1) that Abujbarah would break off all communications with me and Sonoran News and assure him no negative editorials will be written about him and 2) Abujbarah would guarantee him there would be no recall. Abujbarah told him to stuff it or however he said no. Tells you a lot about Trenkster's plans doesn't it? How Abujbarah could have delivered on those demands is problematical, but court hearings on the matter should be interesting.

Trenkster not only put himself at risk by making such demands, he implicated the town as well. Is this another example of the slate saving the town's money?

Furthermore, the slate and other sitting council members voted in Usama's budget unanimously. If he was so bad, why?

The council held a retreat at the museum on July 8. I am told they posted it but they sure didn't advertise it. From what I hear the load was carried by guess who, the new noxious (Vice) Mayor Adam Trenkster.

One rumor that surfaced from the meeting is unbelievable. It has been conjectured Trenkster suggested the town return the annexed property to the west to the State Land Department rather than buy it. However, Francia denied that assertion.

Sonoran News has asked under state open records law that all correspondence on town matters be forwarded to us. The slate whose platform included "transparency" should have no problem with that. However since Trenk has sent emails on town matters from the Rose Law Firm, we have asked for copies of emails on town matters sent from their address. We have received a response that "it wouldn't be ethical" to do that, so we have filed an open records complaint with the Attorney General's Office.

By the way, I had lunch on Tuesday with Usama to celebrate his 61st birthday. He is in good health, still vigorous and as bright as ever. Although he is mostly silent about his plans, it is my fond hope he will return to do the great things he has done for at least four more years. There was no reason whatsoever to unceremoniously kick him out of office. The guy could go anywhere in the country for a healthy increase in salary. Even people high up in Democrat circles have severely questioned the appointment of Rodney Glassman.

The pathway to Usama's return is recall of the slate and those who collaborate with their mischief. We are waiting for Glassman's first attempt to sell off town assets since that is said to be his interest, although he denied it during a public meeting.

Currently four excellent candidates are lined up to go head to head with slate members. I especially like the candidate who will go after Trenkster's seat. Trenk can spend all his family money if he likes but I think the lawsuit on Usama's behalf will show the public why he doesn't belong on any council and who the really good candidates are.

In this online issue there are excellent letters and several great editorials, two written by local men of long standing, John Hoeppner and Steve LaMar.

We have reserved some other great ones for the next printed issue, on July 17.