Guest Editorial

BY JOHN HOEPPNER | JULY 10, 2013
Creekers hoodwinked by brand new council
One of the fundamental principles I have learned in more than thirty-years of advising the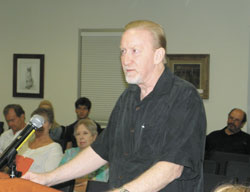 world's leading brand marketers is quite simple. Brands that do not deliver on their promises are destined to fail.

The brand new council promised accountability and financial responsibility. In my opinion, those candidates elected to the Cave Creek Town Council including Reginald Monachino, Michael Durkin, Adam Trenk and Charles Spitzer are not delivering as promised.

The first time the new council convened, the newly elected councilmen summarily and arrogantly violated the foundation of their platform. Councilman Trenk made a motion to terminate the employment contract of the town manager and without skipping a beat, recommended Rodney Glassman as a replacement. Why so fast and why Rodney Glassman?

The only logical reason for immediate termination of a town manager is criminal activity or any action that may endanger the health, safety or welfare of the community. The proper course of action should have been a professional and formal review of the town manager's performance, public input, a vote and an orderly and zero cost transition to a permanent manager.

Rodney Glassman's resume indicates he has no experience as a town manager. Mr. Glassman is a former aide to Arizona Congressman Raúl Grijalva (D), notorious for promoting a boycott of Arizona businesses. In 2010 Mr. Glassman (D) ran a failed campaign to unseat U.S. Senator John McCain. Interestingly, Senator McCain provided a campaign endorsement for candidate Adam Trenk, going so far as to record a robocall. In what appears to me to be an act of political betrayal, Councilman Trenk nominated Senator's McCain's political adversary.

Accountability: Because I am one of three remaining residents that were members of the 1985-86 Cave Creek Incorporating Committee, I have maintained an interest in the well-being of the community (Cheri Hoeppner and former Mayor Jackie Davis are the other two). Part of my community interest included attending two of the candidate debates that were held at the Buffalo Chip in Cave Creek.

At the first debate, surprisingly, the incumbent candidates did not show up (with the exception of Councilman Ernie Bunch). The second debate included two incumbents, Councilmen Ernie Bunch and Thomas McGuire. The debates were informative and I enjoyed meeting the new candidates. However, I felt uncomfortable when I was informed that candidate Adam Trenk was paying for everyone's meal at both debates. Of the 70 or 80 people that attended both debates, I believe I was the only one in the room that insisted on, and purchased, my own dinner.

Accountability includes full disclosure of intent. Not once did any one of the new candidates mention, during the two debates, that Rodney Glassman had been preordained as the new town manager. Had this been revealed during the campaign, I doubt any of the new candidates would have been seated on the council.

Financial Responsibility: The Town Manager's contract requires a 3-month notice of termination plus 5 months of full pay and benefits. This means Cave Creek taxpayers will be paying $20,000 per month for two town managers. Over a period of 8 months this amounts to an astonishing waste of $160,000. This does not include additional legal fees and any damages incurred because of the unprofessional method of termination that could double or triple the actual cost to Cave Creek taxpayers.

Twenty-seven years ago this week a small group of concerned Creekers, like you, gathered in a small room in the building that now houses the town's offices. We had fought a long, hard battle to make Cave Creek a town rather than be annexed and rezoned by the City of Phoenix. To incorporate we had to deal successfully with the City of Phoenix, Scottsdale and Carefree. At times the opposition to incorporate seemed insurmountable. In fact, there were two previous attempts to incorporate Cave Creek that failed.

On July 8, 1986, The Cave Creek Incorporating Committee and the citizens of Cave Creek succeeded in laying the foundation of a community we can all be proud to call home.

I would like to remember and thank those who were a part of the incorporating committee: Ted Rothman (Mayor – Deceased), Jackie Davis (Mayor), Jim Threadgill (Mayor), Ed Walker (Councilman – Deceased), Paul Helms (Councilman – Deceased), Jo Walker (Deceased), Don Radke (Deceased), Jim Hines (Deceased), Betty Garrison (Councilwoman - Deceased), Carl Bixler, Rupert Johnson, Susan Svitak, Bill Webster, Bernice Webster and Cheri Hoeppner.

John Hoeppner served on the 1985-86 Cave Creek Incorporating Committee and twenty-years as the Republican Cave Creek Precinct Captain and State Committeeman. John is recognized worldwide as a leading expert in the discipline of brand research and development. He has received five prestigious AMA Edison Awards for domestic and global Fortune 500 clientele.