JULY 10, 2013
Meet this week's Falcon Football seniors ...
Austin Keisling, Antonio Paoletti, Bruno Rodriguez
With this Sonoran News issue published online only, Production Manager Rachel Karls-Gomes has given me the go-ahead to indulge my penchant for storytelling. Rachel is my invaluable "right arm" at Sonoran News; and without her production assistance these Football Falcon senior profiles would never get done. My long-overdue thanks to her.

I'm going to tell two stories, both true. Story #1's message is intended as a compliment to Head Football Coach Greg Davis; but this message can be instructive to all of us. It was delivered – never to be forgotten – by Country Music Legend (the late) Waylon Jennings. I'll recite Story #2 not as any sort of preaching, but rather as what I want to be a wake-up call to thankfulness. I offer that thankfulness in one's life is always uplifting – a good thing, if you will. First, the following update on Falcon Football.

Next Monday, Coach Davis, his staff and all aspiring Falcons will embark for Summer Camp at San Ysidro (Calif.) High School, Coach Davis's last post before coming to Cactus Shadows as new head football coach in the late spring of 2011. Underclassmen, July 15-17, followed by upperclassmen, July 17-19. Football Fundamentals 101 and "team bonding" will be the Camp's main objectives. San Ysidro lies on the U.S.–Mexico border, approximately ten miles south of summertime's "Phoenix West," aka San Diego. Having spent an afternoon in San Ysidro (1988), I can assure readers that the Falcons aren't heading to Acapulco or Cozumel!

Story #1: In August 1986 (maybe 1985), I went to my first (and only) Waylon Jennings concert, at LanierLand, a Country Music park some 30 miles northeast of Atlanta. Through a friend at the church I attended, I had lucked into fifth row (center) season tickets; so on this particular evening, I saw Waylon (and heard his distinctive sound) from up-close. For his "break" number between sets, he introduced his lovely and talented wife, Jessi Colter, who now resides in north Scottsdale. Together, accompanied only by their guitars, Waylon and Jessie tenderly performed a poignant duet, "Storms Never Last." At that point in Waylon's career, Jessi had put her own career on the back burner, in order to help support her superstar husband through the "storms" he was battling. Their performance at LanierLand was a memorable moment, indeed.

But what I recall most was how Waylon began his show. Without the usual contrived shout-out ("Hello, Georgia!") to the packed house, he strummed, back-to-back, into "Maybe Baby" and "That'll Be The Day!", two Buddy Holly hits from the late '50s. Waylon was musically acknowledging his earlier days when a much younger (and little known, excepting his native west Texas) Waylon played in Buddy Holly's band. When he'd finished the second number, Waylon gruffed these words I'll never forget, "Folks, I've always believed a man should remember where he comes from." I knew that he was dead-on. Ever since that concert, "folks" with short (or convenient) memories haven't ranked very high on my "values" totem pole!

The Cactus Shadows point to my Waylon Jennings remembrance? Coach Davis hasn't forgotten where he "came from." His 18 months at San Ysidro were rough on him – and his family. That he chooses to return to San Ysidro for Summer Camp is a vivid reminder that I hope he finds satisfying. I say he's earned it.

Story #2 "comes from" Glendale's Apollo High School, 2003 or 2004, when (then) Coach Karen Sitkiewicz and her Volleyball Lady Falcons were only points away from upsetting the Lady Hawks, repeat State Champions. Unwisely wearing my customary CS ballcap, I was seated directly behind two Apollo fans. These two gentlemen sounded like volleyball parents. They were not happy campers. One audibly complained to the other, "You know, I can take our girls gettin' beat by any team other than these damn 'Cake-Eaters' from Cactus Shadows!" At the risk of an embarrassing altercation, I foolishly asked the complainant, "Sir, what is a 'Cake-Eater'?" A little red in the face, he snarled, "Your Cactus Shadows kids get to have their cake and eat it, too!"

Now I've never seen a Cactus Shadows team – in any sport – act like a bunch of spoiled-brat elitists; but if you've ever driven to an opposing high school located west of I-17, you can understand, visually, the resentment that brings forth the "Cake-Eaters" epithet, which is not exclusive to Apollo. Thanks to the AIA's mantra, "Pursuing Victory With Honor'" fan behavior (students and adults) has improved; but the undercurrent of nastiness toward Cactus Shadows is still out there.

And so, I would offer this encouragement to all Falcons, be they athlete or student: be quietly proud of, and thankful for, where you "come from." Only by the grace of God and your families' hard work and good fortune, do you have the privilege of living in the comfort and beauty of the Desert Foothills environment. A little thankfulness for that blessing will go a long way.

~ Pete Mohr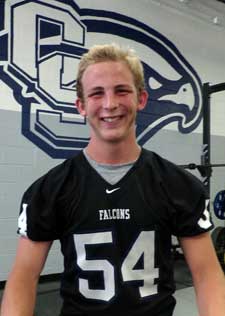 #54 Austin Keisling – Linebacker – 6', 180 lbs.
After choosing to sit out his sophomore and junior seasons, Austin Keisling has decided to rejoin the Football Falcons. Why has he come back? "I've missed playing football and I want to show my friends what I can do." Credit his Dad, and strength-conditioning coach Aaron Robinson with most influencing his decision. "AK" has set a high bar for his return: "I want to get a 'pick' (interception) and force a fumble every game." Coach Davis on Austin: "I like his toughness, his coachability and his leadership qualities. I expect him to be one of our starting inside linebackers." A native Phoenician, AK was born October 21, 1995. He is the son of Creekers Todd and Becky Keisling. After graduation, he's aiming for PVCC's curriculum in fire science. Hey Austin! Will you settle for five picks and five forced fumbles? That would make for one terrific season!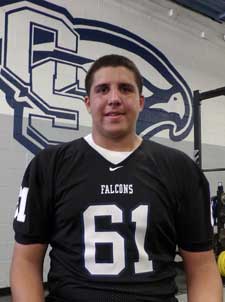 #61 Antonio Paoletti – Offensive Lineman – 6'2", 255 lbs.
In perhaps one of the understatements of this pre-season, Antonio Paoletti (correctly pronounced "Puh-letti") modestly concedes, "I know I'm big enough to play, but not having played since Youth Football, I've got a lot of catching up to do." Citing Antonio's physicality, his "work ethic" and his "willingness to learn," Coach Davis expects the big guy to develop into a starting lineman. Born April 29, 1996 in Seattle, Wash., Antonio and his family moved to Arizona in 2000. He is the son of Creekers Joseph (Joe) and Kelle Paoletti. Antonio is out "to make the team and do the best I can." I say that will make for a pretty fair country start! Presently undecided on his college preference, he's interested in pursuing a curriculum in film/digital media. I'd like to film the first pancake block he lays on an opposing lineman!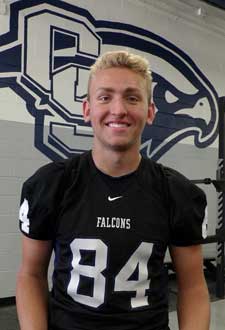 #84 Bruno Rodriguez – Wide Receiver – 6'3", 215 lbs.
Making this Falcon team will add a third varsity sport to Bruno's resume (soccer defensiveman and baseball outfielder). Coach Davis likes his "good size, good hands and good route running. When he learns our offensive schemes, I look for Bruno to log quality playing time." A native Scottsdalian, Bruno was born May 15, 1996, the son of Jose and Lauren Rodriguez. The family lives in north Scottsdale. He plans to attend PVCC, with a major in sports medicine. Younger sister, Rachel, a rising CSHS freshman, will be the sole twirler this year for the Fighting Falcons Marching Band. Bruno and Rachel make for an interesting Friday night's tandem. Jose and Lauren will be bustin' out with pride! From where I write, Bruno looks like a promising "sleeper." Bruno, make me right!