JULY 10, 2013
Cactus Shadows High School senior Mackenzie Brown among 48 top Arizona students in UA science labs this summer
TUCSON – Mackenzie Brown, a senior at Cactus Shadows High School in Scottsdale, is one of 48 interns enrolled in a seven-week summer science program at the University of Arizona in Tucson. The KEYS (Keep Engaging Youth in Science) program began June 3, runs through July 19, and includes students from 24 high schools.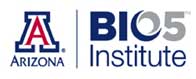 Mackenzie is working in the lab of Clark Lantz, professor of cellular and molecular medicine for the College of Medicine. Her project involves investigating why mosquitoes native to the Tucson area do not transmit the dengue virus.

The Southwest Environmental Health Sciences Center (SWEHSC), located in the UA College of Pharmacy, and the BIO5 Institute codirect the KEYS internship program. This is the fifth summer the program has been presented. With this session, more than 183 Arizona teens have contributed to research projects across the university. This year, faculty in bioscience, bioengineering and environmental health sciences are participating.

Students' internship experiences include a weeklong training institute and research under the mentorship of UA investigators and graduate students. Interns also attend weekly seminars to discuss their experiences and practice science communication skills. Their work will culminate in presentations to their peers and the public in a poster session July 19.

The skills and techniques learned in the program are enhanced by the opportunity to network with others who share an enthusiasm for science: fellow high school students, UA undergraduate students, faculty and other mentors.

"KEYS is a wonderful opportunity for high school students to see what science is all about," says Marti Lindsey, SWEHSC community outreach and education director, and KEYS co-director. "The program gives them hands-on experience in conducting a scientific experiment and communicating the results."

Learn more about KEYS: http://keys.pharmacy.arizona.edu.