My View
BY DON SORCHYCH | JULY 3, 2013
Slate cries to the Arizona Republic


I received this email from Arizona Republic reporter Phillip Haldiman:

Don,
I'm working on a final campaign finance story for this election period. It appears as if the challengers spent more than $45,000 during the election. Comparing that to about $3,000, which the incumbents spent (well, only McGuire), and that's a pretty big difference. I've talked to a lot of the challengers and they claim that a lack of balance in the Sonoran News is one of the reasons they felt they had to spend more. This is not what I say, it is what they have claimed.

I have tried to reach you in the past about responses to various claims people have made about you, but I have been shut out. So I pretty much stopped trying. But I thought I would try again.

How would you respond to those candidates who have claimed the need to spend more money to offset so-called unbiased reports in your paper?

Philip Haldiman
The Arizona Republic
Reporter - Northeast Valley

And here is my email response:

It is clear to me your reporting has been biased toward the slate. Have you reported how many emails your newspaper discarded that was in support of the council? Have you explained why you gave priority space to Adam Trenk and slate supporters? If you did the math you wouldn't be asking this question. Read it in my next week's editorial.

Don Sorchych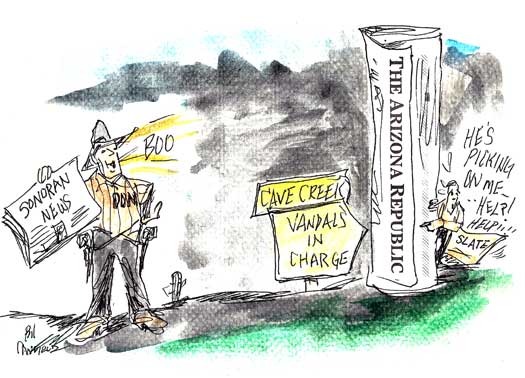 The fact is fund raising started with the advent of a planned resort named Enchanted Canyon. We made it clear at the time there were sinister ambitions behind the fund raising. Mike Chutz came into town while retaining his voting rights in Sewickley, Pennsylvania. Chutz claims to have raised $40,000 to defeat Enchanted Canyon. He spent $15,000 to pay a Rose Law Firm lawyer, which was supposed to help defeat Enchanted Canyon.

When the property owner backed out the anti-resort crowd led by Chutz was furious. They wanted their pound of flesh claiming the town had no right to accept the cancellation. Mayor Vincent Francia held a meeting to placate them and during the meeting tried to extinguish the rumors feeding them. It didn't work because their goals were to take over town council.

Some people who contributed to Chutz's slush fund asked for their money to be returned but probably didn't get it. So Chutz sat there with about $25,000, part of which was contributed to slate candidates.

At no time did any slate candidate send a letter about their candidacy nor did they ever ask to run a paid advertisement, which a few council incumbents did. So Haldiman's assertions are bogus.

We did after all hold our traditional forum where the slate was clearly shown to be inexperienced, angry and inferior in all respects to incumbents. Being a community newspaper with a deep devotion to Cave Creek, we editorially gave our opinion. Recent events by that council, with a slate majority, prove our opinion to be correct. We are not only in for a rough ride, the fired town manager's lawsuit will cost the town and prove the slate, led by Adam Trenk is vindictive and wrong-headed. Furthermore, this newspaper has criticized slates since its infancy.

Trenk who spent about $25,000 would have spent that amount whether or not we gave him space. In his last election here he spent about $20,000, contributed mostly by family members and out of state friends, far more than any past candidate spent in Cave Creek.

Ernie Bunch was only two votes behind Adam Trenk in the primary and didn't spend even $500. Slate supporters gave money to slate candidates damning Sonoran News and with the condition they not appear on our pages.

Slates vote the same as their colleagues, bonded by beliefs that are rarely best for the town they rule. The same goes for their support base. The pro-Glassman speakers came with carefully prepared speeches and they only spoke for Glassman. They would have used a teleprompter if they had one. And the slate followed with one, two, three and four votes. That is what devoted slates do. Yes, Mayor Vincent Francia, apparently as an olive branch, voted for Glassman too. The mayor is always the last vote.

That was an embarrassing evening for the town. It is clear vandals are in charge.

We are told the letter sent to town attorneys is in the process of being converted to claims and as a consequence may be headed for court. It appears the suit will not only encompass the town and council but specific slate members as well. I assume the slate members will be responsible for their own defense, not the town, so will they again cry to their buddy in the Arizona Republic? Or will they just go to the deep pockets that got Trenk in and kept Dick Esser out, both in court proceedings.

What is hard to take is that there was no reason for eliminating the best town manager Cave Creek ever had. The pattern of Chutz and Trenk is becoming clear. They both are angling to hollow the town by selling assets. That is what attracted them to Glassman in the first place; that is supposedly his strength, if he has one. An honest resume rather than the political one presented should have sent the council running in a different direction. Plenty of highly qualified people applied, but were not heard adequately nor given a fair evaluation. That is what is so frightening about slates.

Keep your voter registration current. Most of the slate plans require a public vote but if they don't lawsuits can stop them in their tracks. The clock is running on recalls which will happen in December.

Lastly, there are savage and libelous attacks against Sonoran News by an online entity and we have discovered who is writing it, their interesting past in court and the source of funds, also liable for what is published.