JULY 3, 2013
Rescue reunites owner and horse
CAVE CREEK – When Triple R Horse Rescue removed several animals earlier this month from Hacienda de Los Maliagros (HDLM), in Chino Valley, the organization had no idea the impact the rescue would have on one woman and her horse.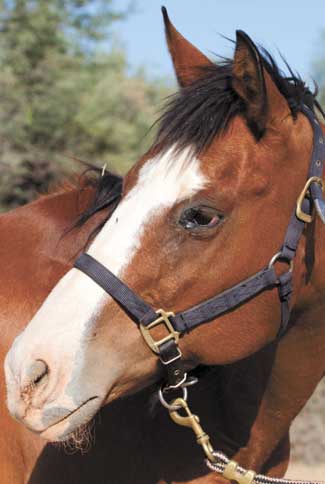 Colleen Kane raised her horse, Abby, from foal to 4 years of age, at which point Kane became extremely ill and medical bills forced her into bankruptcy. Unable to properly care for Abby, she had to make the difficult decision to give her up. Fearing Abby's fate of being sold at auction and into an unknown life, Kane spent the last dollars she had on professional horse training so that Abby would be an attractive purchase to one lucky owner. Kane then sold Abby thinking she would never again see the horse she loved.

Now 6 years later and healthy again, Kane has been following the recent rescue of several animals from HDLM, which, suspected of hoarding, has since been shut down due lack of funds and food to feed the many horses and burros the organization had in its possession.

Tracking the recent coverage of the rescue and her curiosity about the fate of the animals from
HDLM, led Kane to Triple R Rescue's Facebook page. There she saw a photo of a familiar horse who had been recently surrendered to the rescue by a family from Tonopah. Immediately pulling out every photo she owned of Abby and comparing the markings and scars, Kane quickly determined, without a doubt, this was the horse she had given up several years ago.

On June 23, Kane made the trip from Prescott to Cave Creek to see Abby. Upon entering the corral, Kane used her "special call" to see if Abby would come to her. Abby's head shot up. Kane made the call again and Abby immediately made her way to her former owner smelling her up and down. From that point forward Abby followed Kane everywhere during her visit to the rescue.

On Saturday, June 29, Kane and Abby will be officially reunited, once again giving Abby a forever home.

Triple R, along with Hoofprints of the Heart located in Marana, is working to ensure every animal that was rescued from HDLM is adopted into a caring home as soon as possible. If you are able to adopt one or more horses and/or burros or would like to make a donation to help offset the costs associated with rescuing the many animals from HDLM, please contact Ken Bacher at Triple R Horse Rescue, 602-317-6176, or James Boudrieau at Hoofprints of the Heart, 520-780-6900.

Triple R Horse Rescue (www.triplerhorserescueaz.com) is a 501(c)3 nonprofit organization based in Cave Creek, Arizona whose mission is to rescue, rehabilitate and re-home horses in need. This year alone they have re-homed more than 40 horses. Triple R is a 100% volunteer-run organization with a facility that can accommodate up to 15 rescued horses on any given day. Foster homes accommodate additional horses that are available for adoption. Triple R strives to be a partner in the equine community by providing awareness and education about options for helping horses in need and offers opportunities for educational programs, schools, groups and individuals to participate in spreading this awareness, and by having groups and individuals become involved in Triple R's daily activities.