JULY 3, 2013
Seeking AmeriCorps members

PHOENIX – The American Red Cross Grand Canyon Chapter is accepting applications for AmeriCorps National Preparedness and Response Corps members, with a focus on disaster preparedness, response and recovery, community outreach and volunteer support.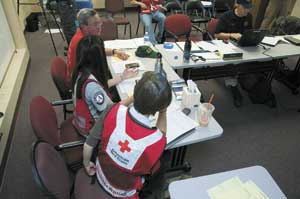 Members will complete projects that enhance organizational service delivery, expand community resources and help Arizona residents prevent, prepare for and respond to emergencies. Extensive training and professional development opportunities are also available to members throughout their service term, which lasts from Aug. 5, 2013 to July 4, 2014. The Grand Canyon Chapter's headquarters are in Phoenix, and possible service locations include Flagstaff, Lake Havasu City, Prescott and Yuma, with opportunities to travel throughout the state during the service term.

Other duties for AmeriCorps members:
• Conduct disaster preparedness education presentations, with the goal of increasing awareness and knowledge of disasters and other emergencies.
• Respond on national, regional and local disaster relief operations.
• Serve as part of a Disaster Action Team, providing immediate assistance to victims of local disasters, primarily home fires.
• Recruit, train, mentor and actively engage volunteers in chapter programs and services.
• Assist with response readiness, including shelter and vendor agreement management.
• Conduct community outreach campaigns and serve as key representatives at community events.
• Develop community contacts, network with local agencies and be a positive ambassador for the Red Cross and the NPRC.

AmeriCorps members will receive a living allowance, health coverage, childcare assistance if they're eligible and an education award upon completion of service. Applicants must be high school graduates who are at least 18, and their own vehicle is highly recommended. Apply by July 15, 2013 at https://my.americorps.gov. For more information, send an e-mail to outreach.gcc.az @redcross.org.