JULY 3, 2013
Meet the first three (of thirty!) Falcon Football seniors ...
Trevor Hunt, Andrew Swedler, Ryan Villalobos
With afternoon temperatures almost daily approaching record highs, and with the D-backs fighting to hold onto 1st place in the NL West, it's understandable that Foothills sports fans aren't paying much attention to football. And yet, counting from this July 1st, Cactus Shadows' August 30 opening game (at home vs. Raymond Kellis) is only 60 days away. Encouragingly, thirty rising seniors are signed up to play for Head Coach Greg Davis, beginning his third season at the CSHS helm.

What does having thirty seniors rostered mean for Cactus Shadows Football? First, they will provide a solid core of "senior leadership," which is important to any high school football team. Secondly, but perhaps more important, thirty seniors indicate a manpower level that may create for Coach David an opportunity to install a two platoon system. The ability to play two platoon football will help keep his Falcons mentally alert and physically fresh – especially in the energy-draining Friday night heat of the season's first five games. Two platoon football should give the Falcons a fighting chance to start their 2013 season on a winning note.

This sportswriter also notes that in 2012, 55 freshman suited up for the BabyBirds. That turnout bodes well for CSHS football – and is a well-deserved compliment to all parent volunteers who've given their more-than-generous time and effort to start Cave Creek Youth Football (CCYF), even in the face of unforeseen bureaucratic obstacles at the national level. CCYF has grown into a vital "farm system" for the Falcons.

For the third consecutive year, Sonoran News is pleased to introduce the Football Falcon seniors. This year, all senior profiles (abbreviated because of number) and accompanying photographs (taken by Assistant Coach Jim Marando) will appear beginning with this issue and continue through the week of August 19. A complete varsity roster (all classes) will be posted online on August 28, two days before the season's first game.

Keep drinking plenty of water, Falcons – and have a great season!

~ Pete Mohr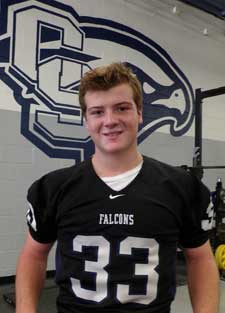 #33 Trevor Hunt – Fullback – 5'10", 180 lbs.
As a Football Falcon, consider Trevor Hunt a "work in progress" volunteer. He's switching from "O" line to fullback, where coaches believe his blocking skills as an interior lineman will transfer productively. That change fits perfectly his personal goal for this season: "I want to start at any position where I can help improve the team." Trevor is rated by Falcon coaches as "a tough, hardworking kid … a good teammate … expected to be one of our senior leaders."

He was born May 27, 1996 in Grosse Pointe, Mich., the younger son of David and Kimberly Hunt. The Hunt family, who live in north Scottsdale, moved to Arizona in 2003. His older brother, George, 26, was a Football Falcon and is recognized by Trevor as being his most important football influence. "T-rev" started playing Youth Football in 2005 as an offensive lineman, where he would play on as a CSHS freshman and JV. No football is on his collegiate horizon. He plans to attend U of A, where he'll major in business.

Trevor cites "hard work and commitment" as meaning the most to him as a Football Falcon. Look for his unselfish attitude to be a big plus for this team.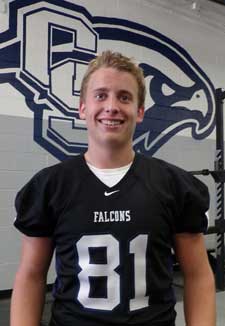 #81 Andrew Swedler – Receiver – 5'11", 174 lbs.
Andrew is a sprinter on CSHS Track. He's expected to bring his speed and "good hands" to the Falcon receiving corps. Falcon coaches rate him as an intelligent player, praising "Swed" for his willingness to do "whatever it takes for the team."

Andrew was born February 5, 1996 in Houston, Texas. He is the son of Dave and Mikela Swedler. The Swedlers moved to Arizona eight years ago and now reside in north Scottsdale. A graduate of Foothills Academy, Andrew first played organized football as a Cactus Shadows freshman. He's set his personal sights on "playing in every game – and winning!" Coaches predict that his work ethic "will lead by example." He's already demonstrated an ability to quickly learn his receiving routes. Dad Dave has most inspired Andrew's football career. He plans to attend ASU, majoring in engineering.

In this, his last football season, Andrew pledges, "Never to give up!" The coaches are liking that!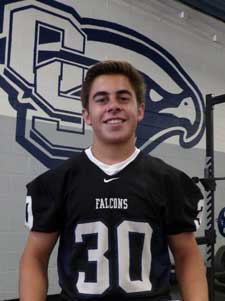 #30 Ryan Villalobos – Safety – 5'6", 140 lbs.
An old saying holds, "It's not the size of the dog in the fight, but the size of fight in the dog." A Cactus Shadows light-middleweight wrestler, Ryan has opted, in his senior year, to bring his "fight" from the wrestling mat to the football field. Falcon coaches know Ryan to be "a hard worker who never misses a beat. He's always there – no matter what drill we may be working on."

Born April 6, 1996 in Escondido, Calif., Ryan is the son of James and Ellen Villalobos. The family lives in north Scottsdale. Yet another Cave Creek Youth Football alumnus, Ryan graduated from Desert Arroyo Middle School. The coaches predict that when Ryan learns certain "defensive techniques," he'll contribute to the Falcon "D". This season, he wants "to get bigger, compete – and win." His wrestling quickness, agility and tenacity should help him patrol the Falcon secondary. Following graduation, Ryan plans to attend ASU, majoring in pharmacy.

Closing with some Falcon nostalgia, this writer is admiringly remembering Brian Colan (CSHS '08), a backup quarterback and fiercely-determined undersized linebacker. He loved football – and played that way. I nicknamed him "Fight Dawg." I've yet to meet Ryan Villalobos; but from his stated commitment to "hard work, dedication and pride," I'm thinking he just may be a worthy successor to the "Fight Dawg."