BY LINDA BENTLEY | JUNE 26, 2013
Kabuki theater used to select interim town manager
Meanwhile, Glassman … was out and about introducing himself to local chamber members as Cave Creek's new town manager
CAVE CREEK – Kabuki theater is a type of popular Japanese drama, evolved from the older No theater, in which elaborately costumed performers, use stylized movements, dances, and songs in order to enact tragedies and comedies.

The term also implies theatrics of a fake, insincere display done only for show or lip service. In other words, a "dog and pony show."

And Kabuki theater appears to be what took place during Monday night's special meeting where council voted 5-2 to designate Rodney Glassman as the interim town manager.

Before the process began, Vice Mayor Adam Trenk apologized for his haste in bringing forth his nominee, Rodney Glassman.

Town Attorney Gary Birnbaum suggested a process to be used as he advised council, "In this unusual case, the Constitution, state statute and the town code tell us nothing as to how to proceed."

Since Clark Smithson withdrew his application earlier in the day, there were five candidates, Tammi Ryall, Patricia Sorenson, Enrique Ochoa, David Richert and Rodney Glassman vying for the interim post.

Council unanimously adopted Birnbaum's recommend procedure, whereas the mayor would call for additional nominees and then close the nominations.

The candidates would each be given an opportunity to speak and answer questions, then the public, then council.

Council members could each nominate a candidate or pass with no second required.

Nominated candidate names would be selected randomly and council would each vote for one candidate until a candidate received four or more votes. If no candidate received 4 votes, the lowest vote getter would be eliminated and the process repeated.

Birnbaum explained council didn't have to vote for any candidate but anyone who received four votes would become the designee and council would direct counsel to draft a contract.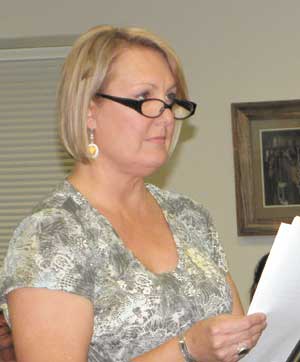 Prior to hearing from the five candidates, Councilman Thomas McGuire nominated Town Clerk Carrie Dyrek (l) to continue working in her capacity as acting town manager.

Mayor Vincent Francia asked for any other nominations and then closed nominations.

Ryall, who worked for the town of Gilbert for 14 years, told council she didn't envy the decision they had to make because all the candidates were highly qualified.

She said she would work "really really hard at work that needs to be done" and called Cave Creek an "interesting, eclectic community," a "well-planned community" and a "gem."

When asked if she were interested in the position on a permanent basis, she said it would depend on whether she and the town felt they were a good fit after the interim period.

Sorenson, who had a varied background in government, including the Department of Corrections to Governor Symington's Office, Environmental Quality and the City of Mesa said she was humbled to be in the mix.

Stating she loved being retired, Sorenson said she was not interested in the position on more than an interim basis.

Both Ryall and Sorenson would be hired through a leasing type agency operated by Timothy Pickering, who said the town would probably save money using his company's services since employees only get paid for hours worked. He stated, "It's probably a more economical model."

Ochoa made a correction to his resume pointing out he worked in Tusayan, which he described as a "company town" with only five or six land owners, for one year and three months, not three months as indicated on his resume.

He said he was involved with contentious issues in Tusayan, whereas the fire chief ran against the mayor in a recall election.

Ochoa said the job of city manager is a 24/7 job and expressed interest in the position on a permanent basis if they decided they had a good fit at the end of the interim period.

He described Cave Creek as going through a period of transition but a great community that is way ahead of many municipalities in branding itself and creating an image.

Richert said he's lived in Arizona for 40 years but grew up in a small Swiss settlement in Wisconsin. He said, "A small town has something that the big city [Phoenix] I worked for for 35 years misses."

Richert, who said he supervised in excess of 3,000 employees when he worked for the city of Phoenix and just under 3,000 at the city of Scottsdale, said it was a breath of fresh air coming into Cave Creek and working in a smaller community was something he wanted to do.

He said he was definitely interested in the interim position and possibly the permanent one. Richert said, "Division is not unique to Cave Creek, it's everywhere," and stated "Debt is always an issue."

Glassman said, "We enjoy this community. It's a great place that needs great leadership."

He told council he ran a skating facility, worked for KB Home and worked as the business and agricultural aide for U.S. Rep. Raul Grijalva (D).

As a member of the Tucson City Council, he said he was responsible for getting through a mandatory rain harvesting ordinance.

Glassman said he had a track record of working with everyone and bringing people together. He said, "I'm here because I'm excited about Cave Creek."

Glassman also stated he was not interested in a long-term position, only in the interim post.

When asked if she was interested in continuing in the capacity as acting town manager, Dyrek said she would if the focus was on hiring a permanent town manager. She said that should only take three to three-and-a-half months.

Dyrek said, "Yes, I can do it in the short term but it can't go on and on when you talk six to seven months."

During public comment Gilbert Lopez read from prepared statements to say he supported Glassman, calling him a "multi-talented individual," as he read from some of Glassman's letters of recommendation. Shea Stanfield said the post was for an interim town manager that reports to council, not a long term position. She asked council to appoint Glassman because "most importantly, he doesn't want this job." Gerald Freeman, reading from prepared statements, said he supported Glassman and called him "imminently qualified."

Also reading from prepared statements, Bruce Arlen stated the process of finding an interim town manager has been done and he was there to support Glassman.

He said the town needed a new town manager "starting tomorrow."

George Ross read from prepared statements as well and said the position reported directly to council and only council.

Ross said the job required a thick-skinned individual and Glassman was qualified.

He said the decision was clear and urged council to select Glassman.

Ron Iverson read from prepared statements and said during the primary citizens made it clear they wanted a change in government.

He asked council to proceed with hiring Glassman, the candidate that stood out to him. Iverson urged council to unanimously select Glassman, a man whom he said had "unquestionable integrity."

Also reading from prepared statements, Eileen Wright said, "I speak in support of Rodney Glassman," stating he plans on spending time with the business community.

She said he had a track record of bringing a divisive community together.

Wright said, "I'm 100 percent certain he will leave our town better than he found it." Scott Dahne read from prepared statements to say the town needed "someone who can start tomorrow" and said the decision must be made that evening with no more delay. He too supported Glassman. Reading from prepared statements, Bill Allen said an interim town manager is a special breed, Cave Creek needed an innovator and Glassman was the man for the job. Susan Clancy said she wasn't there to endorse anyone but stated a national search should only take three months. Clancy said Dyrek would be a great candidate and asked council not to drag the process out for six months. Janet Mohr said she didn't know why council would consider someone without town management experience and said it made sense to take the time to hire someone permanently.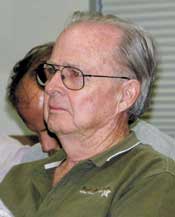 Mohr said, "It really saddens me to see what's happening here." Everett Bell (r) thanked council for making it possible for there to be five candidates and said it was due to Dyrek's good work.

Bell said council needed to make a decision but said the town already had a qualified interim town manager.

He said, "I don't like someone who will be in here and gone, I want someone with skin in the game … someone with skills who may want to participate into the future. But let's do it tonight."

The six councilmen each nominated a different candidate until all were nominated. After a first round of voting, Birnbaum said council was not using the process it adopted. Councilman Mike Durkin argued they were using the process that council thought it adopted. Birnbaum said they were not following the process they voted to adopt. He said they could vote to change it if they wanted to but explained inherent problems with using the method they were mistakenly using.

He explained council members would get to vote only once for a single candidate not for each candidate, which Councilman Charles Spitzer said was what he understood the process to be. Councilman Ernie Bunch and McGuire voted for Dyrek while the mayor and other four council members voted for Glassman.

Prior to adjourning, Francia asked Birnbaum to draw up a contract for the interim manager. It appeared that those who packed the room in support of Glassman didn't care who the other candidates were, since they each spoke from prepared statements. Meanwhile, Glassman, even before the special meeting on June 10, was out and about introducing himself to local chamber members as Cave Creek's new town manager. The process looked like Kabuki theater at best and as though the fix was in.