BY LINDA BENTLEY | JUNE 26, 2013
MCSO evacuates to evaluate white powder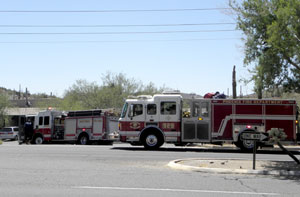 CAVE CREEK – A woman went to the Maricopa County Sheriff's Office District Four substation at around 2 p.m. on June 19 and told the deputy there she received a letter in the mail from a bank and when she opened it white powder came out of the envelope, so she placed the items in a plastic bag and brought it to the station.

Because it was an unknown substance, MCSO evacuated the substation and emergency response teams converged on town hall.

MCSO's hazmat crew tested the substance and found no contamination either with what the woman brought in or at her home.

According to Capt. Rich Burden, the postal inspector who arrived on the scene explained that when banks send out mass mailings such as the one the woman received, they use talcum powder to prevent the pages from sticking together.

Occasionally some talcum powder remains on the paper and can create the situation experienced by this woman.