My View
BY DON SORCHYCH | JUNE 26, 2013
In this online issue we have published the full text of the legal claims Usama Abujbarah's attorney Dan Bonnett of Martin & Bonnett PLLC sent to Dickinson Wright (formerly Mariscal Weeks), the legal firm retained by the Town of Cave Creek.
Read Bonnett Letter
Most of the intended suit is as a result of a poorly written motion by rookie lawyer Adam Trenk. But because of the horrific and false statements by the slate members and their supporters there could well be derivative lawsuits by Abujbarah. There are laws describing libel and even though Abujbarah is a public figure he clearly has been libeled and had his First Amendment rights violated.
Here is Trenk's motion during the council meeting on June 10:
Motion to Remove (sic) Usama Abujbarah as Town Manager Pursuant to Section 31.25(F) of the Town of Cave Creek Code and Section 3.1 of the August 6, 2012 Employment Agreement between the Town of Cave Creek and Mr. Abujbarah as follows (1) immediately deliver written notice of intent to terminate employment to Town Manager Usama Abujbarah with a termination date of September 9, 2013; (2) immediately relieve Mr. Abujbarah from duties as Town Manager and re-assign him to a limited special assignment for the purpose of facilitating the transition of his successor as needed from off-site, effective immediately for the duration of his employment; (3) continue to pay Mr. Abujbarah regular pay and benefits through the termination date; (4) pay Mr. Abujbarah a lump sum severance equivalent to five months base salary, as defined by the Employment Agreement, conditioned on Mr. Abujbarah's execution of a release as provided in sections 3.1(c) and (d) of the Employment Agreement together with all accrued vacation and one-third of his accrued sick leave not used on the termination date; and
[Hand written insertion on typed copy]
5 Request Mr. Abujbarah return the town's property no later than noon tomorrow pursuant to section 8 and (5) agendize and notice a special meeting to be held no later than June 12, 2013 at 7:00p.m. for the purpose of appointing Rodney Glassman as Acting Town Manager to perform the Powers and Duties of the Office of Town Manager in accordance with Section 31.25(E)(2) of the Cave Creek Town Code, by and through an independent contractor agreement, whereby the Town will compensate the independent contractor at the rate not to exceed the total compensation of the outgoing Town Manager, beginning June 17, 2013 for a term not to exceed 6.5 months with the following directives:
1. To carry out the duties of the Town Manager as described in Cave Creek Town Code Section 31.25(H).
2. Oversee the selection of an independent third party for the purpose of conducting an audit of the funds of the Town of Cave Creek, with results to be presented to Council no later than December 1, 2013.
3. Oversee a process of selecting a new permanent Town Manager for the Town of Cave Creek prior to the expiration of the Acting Town Manager's interim contract.
If it weren't clear before, the above document proves it was not only a public lynching, it was obviously vindictive.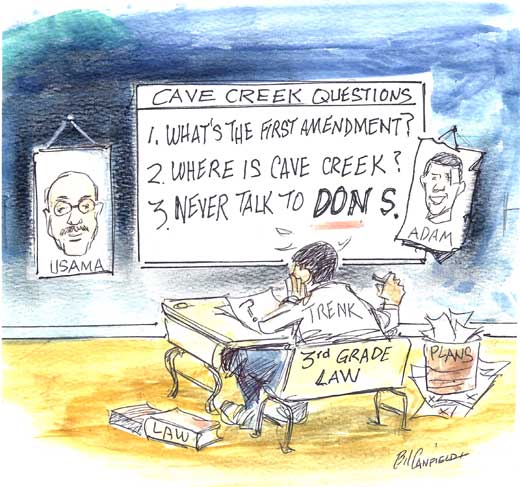 Trenkster's document reads like he was in the third grade. I started to put (sic) for misspelled or capitals where they should be lower case, but decided to count the flaws and spare readers (sic). There were 23 capitalization errors for proper English.
According to some sources, the slate plans were decided as much as 18 months ago and started with the Enchanted Canyon resort. We predicted Enchanted Canyon was an excuse to go for council seats and eliminate Abujbarah.
Abujbarah's lawyer, Dan Bonnett, was handed a strong lawsuit by Trenk, who served a term ago for two years and apparently learned nothing. What is also interesting is the role provided by the town's attorneys, Dickinson Wright. On the night of the lynching for some strange reason, the usual lawyer Marlene Pontrelli was not there. For inexplicable reasons Fredda Bisman was there with Anne Tiffen who reputedly was an employment specialist. Bisman was found lacking in the past and it was the promise of Pontrelli being the town attorney that got the law firm the job. Bisman blessed the same proceedings which are the basis of Abujbarah's possible lawsuit.
Even worse, Dickinson Wright heavy weight Gary Birnbaum showed up at the council meeting where Trenk and his followers tried to shoehorn unqualified Rodney Glassman into the town manager position until Mike Durkin rebelled and voted against Glassman. Birnbaum too, blessed the Trenkster motion, to his extreme discredit.
This is hanky panky of the worst kind and smells like rotten fish.
The motion contained several issues requiring approval which are forbidden in a single motion. Trenkster ignored Abujbarah's contract by not honoring the provision that requires a 90 day notice and demanding return of his car and cell phone. Many of his issues required being on the agenda but they weren't.
Open meetings law violations are rampant. For example, Trenk sent a memo from his Rose Law Firm office to all council members and the Arizona Republic on July 11. We have asked Rose Law Firm to send us all town related communications written by Trenk. In a wide range of subjects he discussed future plans and admonished recipients to not answer and violate open meetings laws. His email violated open meeting laws and I presume it will be a part of Abujbarah's lawsuit.
He discussed his meeting with Abujbarah but left out his first demand. He told Abujbarah he would have to immediately stop all communications with Don Sorchych and/or
Sonoran News.
His demands were violations of Abujbarah's First Amendment rights.
Trenkster's huge screw-ups will be expensive to the town and regardless of how much money his family puts up he is first on the recall list which, so far, includes Monachino and Spitzer.