JUNE 26, 2013
Arizona Humane Society invited to participate in photo workshop
Famed pet photographer to present One Picture Saves a Life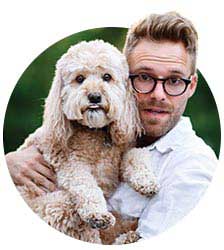 Can a cute photo save a life? Absolutely, if the photo is of a pet in a shelter, says famed pet photographer Seth Casteel (r). Teaming up with GreaterGood's The Animal Rescue Site and Petfinder Foundation, Casteel is barnstorming, or more appropriately, "shelter storming" across the nation to teach anyone with a digital camera how to help his or her local shelter.

Arizona Humane Society, Scottsdale, has been invited to participate in the One Picture Saves a Life workshop at L.A. Animal Care & Control: Baldwin Park Animal Care Center, which received a grant from GreaterGood and the Petfinder Foundation for the event, which will be on Saturday, July 13, 2013.

An award-winning photographer, Casteel's series of Underwater Dogs pictures have been seen by millions on the web and became the basis of the bestselling photography book published last year (Underwater Dogs, Little Brown).

In 2007, Casteel began volunteering to photograph homeless pets to help them find loving families. Shelters where he volunteered found adoption rates went up when the animal was presented in a positive way. Now, with the One Picture Saves A Life Workshop, Casteel will be teaching others how to improve the lives of shelter pets through grooming, photography, and presenting them with "best paw forward" to prospective families.

"It's no easy task to take good pet photos, but Petfinder has found that good pictures on its website help homeless pets get adopted faster," said Lisa Robinson, executive director of the Petfinder.com Foundation. "We hope this workshop will enable shelter workers and community volunteers enhance their skills and start snapping even more pictures to win the hearts of potential adopters."

In addition to the workshop, participating shelters attending the sessions at The Animal Foundation will receive a digital camera, PhotoShop software for photo editing, and grooming products provided by sponsor John Paul Pet. In addition, FreeKibble will be donating 100 Halo Pets meals per registrant to the host shelter at the workshop, up to 10,000 meals.

More information about this program is available at www.onepicturesaves.com. People who cannot attend the free workshop still can find tips on pet photography from Casteel in a series of online videos available on the website.