JUNE 19, 2013
Carefree Kiwanis Flea Market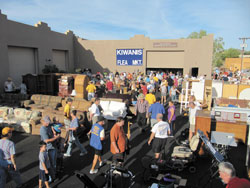 Looking for hot deals on … everything … while supporting local youth programs? This weekend is your chance to do both at the Kiwanis Club of Carefree Flea Market on Saturday, June 22, 8 a.m. to 1 p.m.

According to Dave Bell, Flea Market Chairman, the warehouse is full of gently-used merchandise that has to be moved out, "We're loaded with furniture, electronics, decorative items for every room in the home, including the workshop, exercise room, yard, and patio."
The Carefree Kiwanis Flea Market is located at Dave Anderson Memorial Building, located at 7177 E. Ed Everett Way in Cave Creek (southwest corner of Tom Darlington and Cave Creek Road).

Across the parking lot from the Flea Market, you'll find the Kiwanis Club of Carefree Marketplace. That's where quality clothing, accessories, jewelry, artwork, collectibles and a few prime pieces of furniture can be found. On Saturday, June 22, look for 50 percent off all white, yellow and red ticketed clothing items.

The Marketplace is open every Saturday, from 9 a.m. to noon; and, Wednesdays, from 1:30 to 4 p.m., at 7171 Cave Creek Road, Cave Creek. Look for the large Kiwanis Club of Carefree Marketplace signs.

Cash, credit cards and checks (with I.D.) will be accepted. All proceeds benefit the Youth Programs of Kiwanis Club of Carefree, a 501c3 organization.

Remaining Flea Market dates for 2013 are: August 17 and October 12.

For more information, call the Kiwanis Club of Carefree at 480-488-8400 or visit their website at www.kiwaniscarefree.org.