BY MARIELLE D. MARNE | JUNE 19, 2013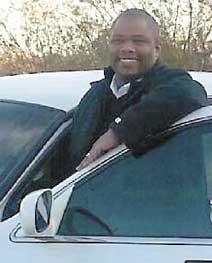 You undoubtedly have certain expectations from your car service: safe, on time, reliable, properly licensed/ insured, nonsmoking. At Black Mountain Transportation, you can count on that and then some! Recently, Erskine Graves (r), Black Mountain Transportation's owner/operator, saved the day for a Boulder's Resort guest who was heading overseas. The man accidentally left his iPad behind at the hotel as he was whisked off to the airport. In a panic since he needed the iPad for an upcoming meeting, he contacted staff at the Boulders, who in turn called Graves, who immediately picked up the iPad and was able to get it to Sky Harbor before the client's international flight departed. That went above and beyond, but to Graves, it was simply all in a day's work.

Most trips aren't so dramatic. Graves is often called to transport diners who want to stay safe after sharing a bottle of wine with dinner. Black Mountain Transportation now uses an SUV, so six diners can be accommodated, without having to appoint one a designated driver. For parties up to 14, Graves has an H2 Hummer driver as part of his network, so keep that in mind the next time extended family plans to visit Arizona.

For Black Mountain Transportation, it's not only about rides to/from the airport (at flat rates, too!) or even dinners out. Graves is able to do daytrips – Sedona, Tucson, Flagstaff – or even weekend jaunts to Vegas. When you want to leave the driving to someone else, put Black Mountain Transportation on your list. Call 480-251-6727 to see where they can take you!