BY LINDA BENTLEY | JUNE 12, 2013
Divided council publicly 'lynches' and ousts town manager
Mohr asked, 'What is it you want to do that you cannot do with this man in this job?'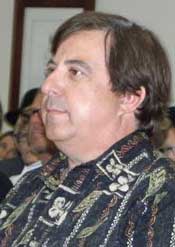 CAVE CREEK – Call to the Public began with Marc Peagler (r) stating, "I know why we're all here."

He recalled the choices previous councils made over a decade ago to build the smallest sewage treatment system the county would allow in an effort to thwart development.

Peagler said, "This isn't the place for vendettas."

Lawrence Warfield wanted the town to look at what transpired during the lame duck session and said it boggled the mind how the town was on the hook to pay for the legal bill regarding the lawsuit against Dick Esser who asked to rescind his withdrawal from the council election when the town wasn't a defendant.

For the record, Town Clerk Carrie Dyrek and Cave Creek Town Council were defendants along with Esser, Maricopa County Board of Supervisors and Recorder Helen Purcell.

Esser asked Dyrek if he could rescind his withdrawal, Dyrek asked Maricopa County Elections, which told Dyrek it was up to the town.

Esser only did what he was given permission to do.

Mike Noonan stated he represents a large number of land owners in town, including Bob Kite, and said his concerns were developers being stifled by enormous bureaucracy and enormous cost.

He encouraged the town to develop fiscal responsibility.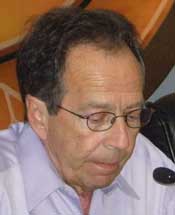 After Mayor Vincent Francia (l) explained the procedure for the general agenda, which was to discuss the continued employment of Town Manager Usama Abujbarah, Abujbarah's Attorney Dan Bonnett with the law firm Martin & Bonnett PLLC, raised what he considered procedural issues.

He said it wasn't clear who called the meeting and stated the town code required a special meeting of the town council to be called by either the mayor or by written request of four council members.

Francia stated he called for the special meeting.

Bonnett also questioned whether council was proceeding in accordance with the town charter, which he said required the town manager to be advised in writing of the intent to remove 30 days prior to official action being taken.

He said a council seated for one week discussing the possible termination of the town manager of 17 years didn't seem fair.

Pointing out Abujbarah's contract ends in July 2014, Bonnett said they were not that far away from the end of his contract.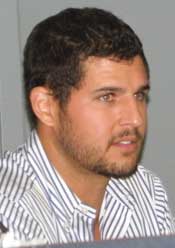 Vice Mayor Adam Trenk (l) stated, "I called this meeting" and said after serving on council from 2009-2011 plus the campaign season eroded any confidence he had in the town manager.

He said he could provide specifics but extenuating circumstances had undermined his ability to work with the town manager.

Councilman Mike Durkin said he began taking the matter seriously since the beginning of the year and said the town manager's vision for the town of Cave Creek was not aligned with the citizens.

Councilman Charles Spitzer said he's been in town for 12 years and during that time the town manager has made some bad decisions.

He said, "I simply don't have any trust in him for the future."

Councilman Thomas McGuire said, "As a town council, we've not discussed our vision," and stated the evaluation of the town manager was premature.

Councilman Ernie Bunch said over the last 36 years he's had a lot of employees and the ones who never make mistakes or bad decisions are the ones who do nothing.

He stated, "It is totally and wholly unfair to can Mr. Abujbarah right off the bat."

Francia said generally when a new council is seated they have a retreat to discuss their vision and direction.

He said some of the ideas from the new council members were very good.

Stating he understands political pressures, Francia suggested assembling in a retreat and presenting their agenda to the town manager.

Trenk was adamant and stated, "Elections have consequences."

He said in the five years he's been in town he's seen the town manager involve himself in the political process and provided unsolicited information to the media.

Trenk confirmed with the town attorney that there was no need for cause in considering termination.

He said, "We don't need cause" and stated the contract required no accountability.

Durkin said, "I want to assure council I have done my due diligence and it's very hard to change 17 years of bad behavior … This town manager creates too much of a risk for success."

McGuire said he looked forward to getting together with the new members of council and said, "We owe it to any employee."

Bunch said, "I think as a council we have the ability to get done what we need to get done."

Councilman Reg Monachino had nothing to say.

Bonnett stated what was legal and what was morally right were two different things and said the best plan and most expeditious plan is not the same thing.

Public comment brought nearly 40 people to the podium beginning with Peagler, who said although not a resident he's been associated with the town for 44 years, has worked with every town manager and said Abujbarah has done a good job.

Jenny Cure said the town manager is supposed to assure fiscal responsibility and stated the town has an earthquake proof water tank which cost 578 percent more than a steel tank even though there is a very low probability of ever having an earthquake.

She said, "I recommend terminating the town manager's contract immediately with no payment."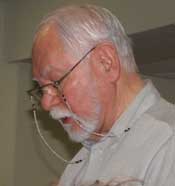 Gilbert Lopez stated Abujbarah developed an inappropriate relationship with the editor of Sonoran News.

He claimed the town paid two times what it should have for the water company and that eroded all his trust in Abujbarah.

Lopez called for immediate termination.

Grace Meeth said a town manager form of government doesn't exist and it was council's prerogative to terminate a town manger you can't trust.

She said, "I believe it's time to change the town manager."

Bill Allen said "We need a change in town manager."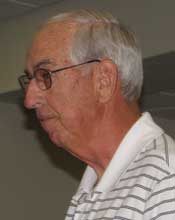 Gerald Freeman (r) brought what he said was documentation that the town manager was attempting to facilitate access to the Cahava Springs Ranch through Morningstar Road and passed out copies to council. He said, "We need a new town manager and now is the time to do it."

Kerry Smith pointed out "trust" was a common theme in the comments. He said the ability for council to do its work is based on the quality of information from their policy advisor (town manager) and that was the reason why a bond of trust is so important.

Smith said he wished to endorse council's discretion on who they decide to trust.

Bob Williams addressed his remarks to the four new council members, whom he called "very aggressive."

He concluded by saying, "The town manager has done more for this town than any of you have done individually and collectively. I think you're going to need him to be successful and the town needs him."

Scott Dahne said he was accused by Abujbarah of violating the open meeting law to prevent the audit committee from communicating and revealing what it was uncovering.

He said he lost confidence in the town council and the town manager.

George Ross said there were basic principles of trust and no town has been successful with excessive per capita debt. He said the $11,500 per capita dept for Cave Creek was twice that of Scottsdale and said an audit is required to determine how much the per capita debt is.

Ross said there was a clash between the new council and town manager.

Jay Williams said he has worked with the town manager and stated, "He is truly brilliant and knows how to govern."

He called councils over the past 10 years "hand puppets" and weak.

Williams said, "We have a debt issue not because Usama did something bad … people voted for it."

He said Usama was a guy who could "get things done and put Cave Creek on the right track."

John Ford said they needed more than one week to look at Abujbarah and pointed out the town has really good staff because of him. He said, "You owe it to me as a citizen."

Shelley Anderson told council they were embarking on a very expensive solution.

Todd Gilson said, "I'm hoping I'm not about to witness a lynching," and stated Abujbarah has done a good job and it would be wise to give him a chance.

Mike Ballmann, another Morning Star Road resident, went on about the road paving issue and said, "The town manager is a bully and I think he has to go."

Susan Clancy said council needed to time to work with Abujbarah, who has institutional knowledge. She said what they should be looking for is fairness.

Carefree resident Mark Bowman called for council to "Please terminate his contract."

Terry Smith said, "I support Usama. I'm surprised a decision was already made."

He asked Trenk to do what he said during his campaign and said Abujbarah "has done wonders for this town."

Nancy Bayfield said she first came to Arizona 70 years ago and when Cave Creek was just a small settlement it was called the town too tough to govern.

She said the town manager has helped get things in order and stated, "I'd hate to see us not have his help."

Steve Lamar said their due diligence was made up of people who have a vendetta against Abujbarah and said it was a little early on for them to be considering his removal.

He said, "We are $7 million in surplus, we have an award-winning water company," and advised them to spend their energy on the budget.

LaMar said somebody called it a lynching and stated, "That is dramatic."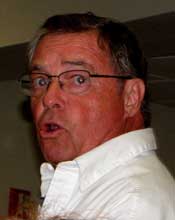 Bob Moore (r) said there was a pipeline in town that was not funded by WIFA that went down Cave Creek road from Sonoran News to the town manager.

In reference to Abujbarah being touted as the best ever, Moore asked, "Best what?"

Moore said he's not trained to be a town manager and hasn't taken any courses.

He said Abujbarah had a chance for a decade.

Zeita Pochos, a 27-year resident said, "I want to know what all this termination talk is about. To me it sounds like a personal vendetta."

She said, "He's always been for Cave Creek," and asked, "Have you thought about what it would cost?"


Janet Mohr (r) said there was a lot of talk about the water company and reminded residents that the town's boundary doesn't go to the national forest and there was a lot of county property to the north.

She said she'd like to see the council get its feet wet before making a decision.

Mohr said, "I want you to be here for us, not just council's vision for the town," and asked, "What is it you want to do that you cannot do with this man in this job?"

Esser said, "For two or three years Usama and I didn't get along. We used to have closed door sessions and yell at each other."

Addressing the four new council members, he said, "I like to think of you four as the Enchanted Canyon slate – the non-issue to get involved. You gotta give him a chance."

Ralph Mozilo said it broke his heart to see the town so divided and he was the deciding vote that put Usama in his position in 1999.

He said, "The issue here is lack of leadership from town council."

Mozilo asked them to be a strong, decisive town council and not divide the town.

Steve Snider, who withdrew from the council race before his campaign ever got off the ground, pointed to Sonoran News publisher/editor Don Sorchych and blamed Usama's relationship with him as the problem.

Trenk thanked all who spoke and said what all the speakers missed is the love of the town.
He said, "We have objectives. My allegiance is to the community."

Trenk said he met face to face with Usama the day before and they told each other they didn't trust the other.

He said decisions have consequences and moved to remove Abujbarah as town manager with a termination date of Sept. 9, 2013.

His motion also called to immediately relieve Abujbarah from his duties as town manager and reassign him to a limited special assignment for the purpose of facilitating the transition of his successor as needed from off-site.

The motion requested Abujbarah return the town's property no later than noon the next day.
The motion went on to spell out the pay, benefits and severance conditions of his contract as well as call for a special meeting of the town council no later than June 12 for the purpose of appointing Rodney Glassman as acting town manager.

Glassman is a 35-year old liberal, progressive Democrat, former Rep. Raul Grijalva (D) aide and partial one-term Tucson City Councilman who was found to have plagiarized portions of his 246-page dissertation for his PhD in 2005.

Durkin seconded the motion.

Spitzer said a vast majority of people he talked to believe the town manager doesn't act fairly to businesses.

McGuire said the council needed to come together before it could make a competent decision.
Monachino only spoke to say the greatest thing that night was citizen involvement.

Bunch expressed disappointment in council and likened what they were doing to a couple filing for divorce with irreconcilable differences after being married for only seven days.

Francia said, "The quality of the journey is determined by the first step. I don't think it's a good first step."

He said council was responsible and passing the motion would cause harm to the community.

The motion passed by a vote of 4-3 with Francia, Bunch and McGuire dissenting.