BY LINDA BENTLEY | JUNE 5, 2013
Taxpayers reign victorious against CCUSD93
'No bill … or law impairing the obligation of a contract, shall ever be enacted'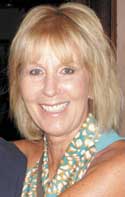 PHOENIX – On May 29, taxpayers won a victory when the Arizona Supreme Court denied Cave Creek Unified School District 93's petition for review in the case of Jayne Friedman/Richard Bail v. Cave Creek Unified School District.

The Goldwater Institute filed the initial complaint on behalf of Friedman (r) in April 2011, seeking a preliminary injunction against the school district from using bond money for projects other than those authorized by voters in November 2000.

Bail was later added as a plaintiff in an amended complaint when the district challenged Friedman's standing to sue since she did not live in the district in 2000 when the bonds were passed.

Bail, on the other hand, has lived in the district since the 1990s and said he voted in every election.

Although the district had $13 million left over, rather than paying down the bond debt, it decided to use the money for projects other than those approved by voters.

And, instead of holding CCUSD93 accountable to the taxpayers, the Arizona State Legislature passed a special law that allowed some school districts to divert funds from voter approved projects to other purposes, in violation of the Arizona Constitution.

The Goldwater Institute successfully argued the law, which was introduced by then Rep. Nancy Barto as Section 34 to HB2725, allowing school districts to spend bond revenue any way they desired, breached the district's contract with voters.

When CCUSD93 voters approved the November 2000 bond initiative, it was based on the specific projects listed in the publicity pamphlet, which, according to Goldwater Institute Attorney Christina Sandefur, who argued the case, created a contract between the school district and the voters.

Article II, Section 25 of the Arizona Constitution states, "No bill … or law impairing the obligation of a contract, shall ever be enacted."

Maricopa County Superior Court ruled in favor of the plaintiffs and awarded the Goldwater Institute attorneys' fees.

That decision was subsequently upheld by the Arizona Court of Appeals.

By declining to review the case, the Supreme Court handed district taxpayers a victory, essentially upholding the decisions of the lower courts.