JUNE 5, 2013
Foothills Food Bank now open at new location
Seeking special community support for summer months
Foothills Food Bank Grand Opening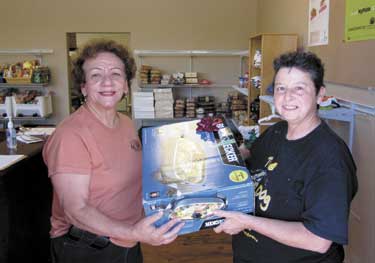 NORTH VALLEY – The Foothills Food Bank officially opened on June 3 in its new location at 6038 E. Hidden Valley Drive in Cave Creek. They were welcomed by many members of the community during the May 18 Grand Opening. The first client at the new facility, Yvonne H. (r, on right), is pictured here with Pam DiPietro, Executive Director. (Courtesy photo by Royce Drynan)

DiPietro said, "Donors, clients and volunteers all appreciate operating from a larger facility." Clients welcome the opportunity to discuss their needs in a private setting. Donors appreciate having an entrance devoted to accepting donations. The approximately 400 volunteers are enjoying a much better work space.

Meeting demands during the summer months is a challenge at the Foothills Food Bank. Your support is especially needed now. Without regular financial help from members of our community, the food bank may not be able to assist everyone in need over the next several months. Also, donations to help pay the loan on the building are crucial.

If you wish to mail your support rather than visit them on Hidden Valley Drive: PO Box 715, Carefree, AZ 85377.