BY LINDA BENTLEY | JUNE 5, 2013
Two accidents result in criminal charges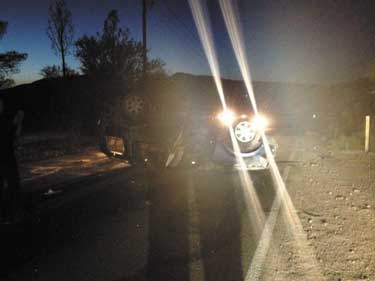 John Hoeppner came across this abandoned blue Lincoln SUV rolled over on School House Road about a mile north of Cave Creek Road at 8:30 p.m. on May 23. Photo by John Hoeppner



CAVE CREEK – On May 23, Cave Creek resident John Hoeppner came across an abandoned blue Lincoln SUV rolled over on School House Road approximately one mile north of Cave Creek Road at 8:30 p.m.

According to the Maricopa County Sheriff's Office, a juvenile aged 14 or 15 years old was driving his parents' Lincoln while under the influence of alcohol.

It's unclear if he was driving the vehicle with or without his parents' permission and was headed southbound on School House Road when he lost control of the vehicle.

The juvenile was not injured but is being charged with two counts of underage DUI related violations.

Details are unavailable due to the age of the defendant.

On May 4, a hit and run accident on Spur Cross Road required Steve Campbell, a retired Carefree dentist and Cave Creek resident, to be air-lifted to a hospital with life threatening injuries.

Campbell was riding his bicycle on Spur Cross Road when he was hit by a truck that fled the scene.

Information eventually led MCSO to 40814 N. Cahava Ranch Rd. and a 1991 Ford F150 pickup truck belonging to Stephen George Herskowitz, 61.

Herskowitz was arrested and booked into Maricopa County Jail with bond set at $36,000 on felony charges of aggravated assault (class 3), hit and run with death or injury (class 2), and a marijuana violation (class 6).

A search warrant was executed and a supervening grand jury indictment was later issued on the same charges.

On May 22, Herskowitz, who is being represented by a public defender, entered a plea of not guilty to all charges.

Herskovitz has a previous record for drug-related offenses. He was arrested in 1995 on felony charges for possession of a narcotic drug (class 4), possession of marijuana (class 6), and possession of drug paraphernalia (class 6).

Herskovitz entered a plea agreement through Maricopa County Superior Court's special Drug Court for first time offenders and was sentenced to probation in 1997.

He was discharged from probation in January 1998 and his felony offense was designated a misdemeanor.

Herskovitz's current charges are scheduled for a pretrial conference on July 9.

Campbell's condition is unknown.