JUNE 5, 2013
Unwanted pets released into the wild harm Arizona's wildlife
Volunteers trap 100 nonnative turtles at Phoenix Zoo "moat"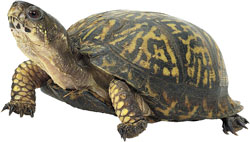 PHOENIX – More than 100 volunteers devoted in excess of 350 hours toward helping native aquatic species thrive in the pond outside of the Phoenix Zoo entrance. At this year's Turtle Trapping event, 100 turtles (29 females and 71 males) were trapped of which 96 were nonnative pond sliders that are common in the pet industry. In addition, four other nonnative species were trapped in the pond: common musk turtle, eastern painted turtle, razorback musk turtle and river cooter. "Since we started trapping turtles at the zoo in 1999, more than 700 individuals have been trapped. Over 500 of those were nonnative females, which we placed with the Phoenix Herpetological Society to reduce the breeding in the pond," said Cristina Jones, Game and Fish's turtles project coordinator. "The turtles' shells and their size give us clues that many of these were pets at one time that were released into the wild. It is estimated that each year, hundreds of pet turtles are released into urban ponds like the one in front of the zoo.

Many pet owners purchase the turtles when they are small, not realizing how big these creatures can become. "Over the years, we have captured a total of 17 different species and only one of those was native to Arizona," said Jones. "Nonnative species can seriously harm our native aquatic species by introducing disease and by out-competing them for resources. All male nonnative turtle species found at the pond were returned to the water to continue to provide zoo visitors with the opportunity to see a variety of native and nonnative turtles. Turtles were measured, weighed, sexed, species verified and marked for identification. The event provided outreach volunteers on site to answer any questions about pet ownership, nonnative species and options for people that can no longer care for their pet turtles.

The event coincided with World Turtle Day on May 23, and also provided a learning experience for the Game and Fish Department's home school program. The conservation effort was a partnership between Game and Fish, Phoenix Zoo and Phoenix Herpetological Society.