BY LINDA BENTLEY | MAY 29, 2013
Council-elect members reveal agenda
Durkin, who lied to eject the press from a properly noticed meeting, stated he wants to introduce open government and transparency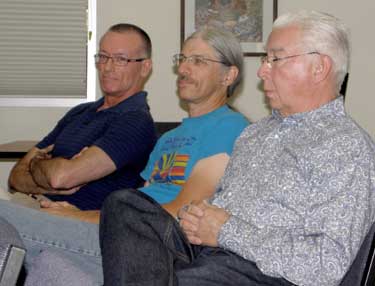 Councilmen-elect Mike Durkin (from left), Charles Spitzer, Reg Monachino and Adam Trenk (not pictured) each took to the podium during Call to the Public on Monday to thank the outgoing council members and reveal their agenda.
Photo by Linda Bentley




CAVE CREEK – Monday night's special meeting of the town council was held for the sole purpose of canvassing, or officially recognizing, the general election results.

Prior to council voting to canvass the election results, all of the newly elected council members, Mike Durkin, Adam Trenk, Reg Monachino and Charles Spitzer took to the podium during Call to the Public.

All four thanked the outgoing council members while Durkin laid out his agenda.

Durkin said the citizens of Cave Creek wanted change, which they made obvious by replacing two-thirds of the town council and he was looking forward to making those changes.

He said he spent many hours studying the town code and reading meeting minutes and stated he has a vision for the future and a vision for change.

Durkin said he met with Town Manager Usama Abujbarah and Mayor Vincent Francia and was pleased to learn, in the 14 years since Francia's been mayor, he has not refused to place items on the agenda and didn't intend to start now.

Durkin, who lied about the subject of that meeting by stating it was personal in nature rather than town business in order to eject the press, stated he wants to introduce open government and transparency.

He also said he wants to form committees to develop a long term capital improvement plan, deal with fiscal issues and town debt and hire a CFO that answers directly to council.

Stating the town manager is not aligned with that vision, Durkin called for a resolution stating a lack of confidence in the town manager.

Having arrived late, Trenk said he didn't hear the beginning of Durkin's message but what he had to say was in the same spirit.

Trenk claimed there have been issues regarding the town manager over the course of many months and said, "We need to clear the air on this as soon as possible."

Trenk asked the mayor to waive the seven-day requirement to add an item to the June 3 agenda, a copy of which was provided to council, for discussion and possible action regarding the employment, compensation, benefits, promotion, demotion, dismissal, termination and/or resignation of the town manager.

The proposed agenda item included the suggestion of a possible executive session "at any time" to discuss the matter.

Monachino spoke briefly to say he supported Trenk's statement.

Spitzer said as difficult as it is to ask council to do things as a citizen, it is probably more difficult to be on council.

Of the 1,716 ballots returned, the final vote count for the runoff election for the last four seats on council was as follows:

Mike Durkin 977
Tom McGuire 963
Reg Monachino 960
Charles Spitzer 904
Eileen Wright 880
Under Votes 2061 (Ballots that selected less than four)
Over Votes 28 (Ballots that selected more than four)
Write-ins 91 (There were no registered write-in candidates)

Proposition 459
(Support for council's action to rezone four acres along Carefree Highway)
Yes 1070
No 592
Under votes 54 (Ballots that did not vote on the proposition)

Francia thanked the council for its service to the community and for bringing the town through difficult times before council, with Steve LaMar absent, voted unanimously to approve the final election results.