BY PETE MOHR | MAY 29, 2013
Cactus Shadows graduates 395 on May 23, the 28th commencement in school's history
Seniors post academic, athletic successes
PHOENIX – Cactus Shadows' Class of 2013 does not buy into the familiar superstition that 13 is an unlucky number; and with good reason. Cheered on by exclamatory shouts of pride and affection from their families and friends, 395 seniors jubilantly reached the milestone of their high school graduation.
For the fifth consecutive year, commencement exercises were held in the main auditorium (sanctuary) of Phoenix First Assembly (PFA), which is located on the east side of Cave Creek Road, approximately one-half mile south of Greenway Road. Belated recognition is due CSHS Principal Steve Bebee and his administration team for making the then-unpopular decision to shift graduation from Falcon Stadium, its traditional location, to PFA. Consider the advantages: No more swarming grasshoppers; no more drenching thunderstorms; and no more oppressive outdoor heat. PFA has proved to be a near-perfect graduation venue.
This year's graduation was especially meaningful for Principal Bebee and four CSHS faculty members: Ms. Cameron Bender, Ms. Renee Diegher, Ms. Joyce Frederick and Mr. Scott LaVigne. Each had a son or daughter in the graduating class. Congratulations to these five educators, their spouses and other family members.
Keeping graduation tradition, CSHS Music Director Gary Wycoff's Honors Choir delivered a stirring a cappella performance of the National Anthem to Francis Scott Key's original melody and intended tempo. As the audience took their seats, the CSHS Concert Band played an enjoyable program. Well done, Honors Choir and Concert Band!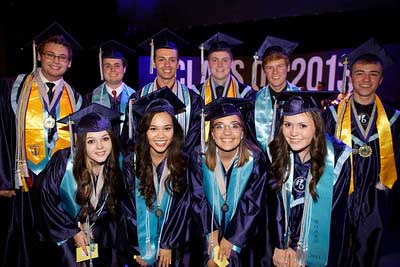 Courtesy photo by Dillon Driscoll
Principal Bebee then delivered his congratulations to the graduating class, highlighting their accomplishments at Cactus Shadows. CCUSD Superintendent Dr. Debbi Burdick followed with her good wishes and encouragements to '13 for their futures. CCUSD School Board Members, traditionally seated on-stage, were individually introduced. They assisted later in the awarding of the diplomas.
With diplomas in hand, the class returned to its seats. Then, when the ceremonies had been completed, they exultantly tossed their graduation caps toward the ceiling! Class of '13 had made it to the end of the 12-year journey. Understandably, they celebrated – rousingly! You graduate high school only once – treasure the occasion.
Before the hard-earned diplomas were handed out, Class Valedictorian Cameron Lamp, Co-Salutatorians Kevin Curley/Devon Vaughan and Student Council Executive Board President Shelby Barrett spoke for the class. They were followed by Executive Board Members Phillip England, Alex Brettell, Clare Milostan, Ann Nguyen and Whitney Gombert. Their common theme encouraged classmates to build upon their foundations learned at Cactus Shadows. Good-humored remembrances brought appreciative laughter from the audience.
On Honors Night, May 20, Principal Bebee proudly announced scholarships totaling $8,770,000 had been awarded past class members. Congratulations to those award winners who contributed to that significant achievement. In a separate ceremony, CSHS Athletic Director Mike Siwek presented 16 Falcon athletes who signed Letters of Intent to compete at the college level.
In 2012-2013, CSHS teams won two State Championships – Boys Cross Country and Spirit Line. There was one Runner-up finish – Girls Golf; one individual State Championship – Ethan Homan in the 800m run; and one Arizona High School record set – quarterback Bryce Kinsler's career total passing yards.
Homan's 4th place paced Boys Cross Country to its first State Championship, also a first for Head Coach Patty Egan. Herself a distance runner, Coach Egan helped start Cross Country at Cactus Shadows in 1992. To Coach Egan: "Well deserved!" Cross Country Girls, led by standout Terri Baker, finished 3rd. Homan, Baker and Girls Golf Captain Jamie Frederick were voted "Athletes of the Year" by CSHS coaches.
Upset in their bid to win a seventh straight State Championship in 2012, Head Coach Rika Cuff's Spirit Line (Cheer and Dance) roared back to capture that seventh State title last February. Seven State Championships in eight seasons? That record, in all likelihood, will never be equaled by
any
team in
any
sport.
Boys Basketball, Baseball, Volleyball and Boys Golf went to State Playoffs. Congratulations to all Falcon athletes and coaches on a successful sports year.
Writing this article from 3,000 miles distant, my thanks to Principal Bebee, Athletic Director Siwek, CSHS Registrar Pam Lazo, Student Council Co-Advisor Cameron Bender and Athletic Department Administrative Assistant Bonnie Nystrom for their generous time during a hectic Graduation Week.
For all of the Class of '13, as you go forth to take on the world, consider the following provision: There will be times when you'll find it's better to be "lucky" than "good." Nevertheless, I'm confident that in your adult lives, you will experience considerably more "good" than "luck." For all of you, I wish that so.
Have a great summer!