MAY 22, 2013
Congratulations to our next generation of fine artists!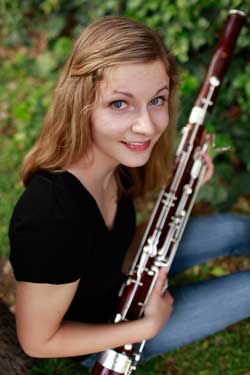 PHOENIX – Arizona Musicfest is proud to announce the 2013/2014 Arizona Musicfest Scholarship Recipients.

Our newest recipient of The Arizona Musicfest Scholarship is Dana Brink (r), bassoonist, from Corona del Sol High School in Tempe, Arizona.

"I am so honored to have been selected for this scholarship - never in my wildest dreams would I have thought that less than four years after starting on my instrument (bassoon) I would be on the pathway to becoming a professional musician and attending the amazing Eastman School of Music in Rochester, New York in the fall. The Arizona Musicfest Scholarship will undoubtedly help me make that dream a reality," said Dana Brink upon receiving the Scholarship.

Dana joins violinist Jeanelle Brierley (2012/2013 Scholarship recipient), pianist Evan Pensis (2012/2013 Scholarship recipient), and pianist Karen Nguyen (2011/2012 & 2012/2013 Scholarship recipient), who were also awarded scholarships this year (2013/2014).

"Musicfest's scholarship program is a wonderful example of their dedication to Arizona's young musicians, and I am so honored to be a recipient," said Jeanelle Brierley. "I can't thank Musicfest enough for the support that they have provided over the years, and for the support and encouragement that they are continuing to give throughout my college experience."

Evan Pensis said, "I am incredibly honored to be among the recipients of Arizona Musicfest's scholarship. I am thankful for their enduring support of the arts and their numerous opportunities that cultivate world class musicianship within Arizona."

"I am very honored to be a recipient of the Arizona Musicfest Scholarship. It is a very personal award because Arizona Musicfest has been a part of my musical career for six years," said Karen Nguyen when she received her third award. "This scholarship gives young musicians a chance to pursue a musical education."

"Part of our mission is to support young musicians who have a passion for classical music. Arizona Musicfest is proud to offer scholarships to accomplished young musicians pursuing a career in classical music performance," said Ann Wallenmeyer-Krahman, Arizona Musicfest Chairman of the Board.

"This year we could not be more proud of our four scholarship winners. Each of them excels musically, academically and their extracurricular activities cover a wide range of interests. These young adults are so accomplished, it is inspiring!" commented Wallenmeyer-Krahman.

"Three of the Scholarship winners have participated in the Arizona Musicfest Young Musicians Competition and performed in concerts we sponsor to provide performance opportunities for young musicians. Many of us in the Arizona Musicfest family have had the pleasure to watch these musicians grow and develop over the years. We never cease to be amazed by the commitment and dedication they apply in their pursuit to achieve excellence. These students inspire us and we look forward to continuing to follow their journey," said Wallenmeyer-Krahman.

"We are America's Premier Winter Music Festival. And beyond the Festival, the music appreciation and performance opportunities that we underwrite for the youth of our state are our passion," said Jim Morrissey, Coordinator of The Arizona Musicfest Scholarship Decision Committee 2013 -2014 and a Former Chairman of the Board.

"The Arizona Musicfest Scholarship is a prime example of our philanthropy. Through the Scholarship, we are now financially supporting the college-level education of four of Arizona's finest young musicians majoring in instrument performance at four renowned schools of music across the country," continued Morrissey.

"It is quite likely that one - or all - of these Arizona Musicfest Scholarship winners could be members of symphony orchestras or highly regarded ensembles. Helping to prepare the next generation of great American musicians ranks as one of the grandest accomplishments of Arizona Musicfest.

"As proud as we are of ourselves as an organization, we are more proud of these four, thrilling students," concluded Morrissey.


Introducing the 2013/2014 Arizona Musicfest Scholarship Recipients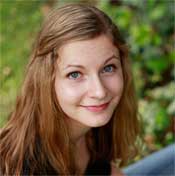 Dana Brink
Dana Brink, age eighteen, is currently a senior at Corona del Sol High School in Tempe, Arizona and is attending Eastman School of Music in Rochester, New York in the fall. She has been playing the bassoon since her freshman year of high school and currently studies with Melanie Sanguinetti of the Arizona Opera.

Dana has been principal bassoonist of the Phoenix Youth Symphony under the direction of Keitaro Harada for two years. She has also been fortunate enough to play with the Scottsdale Musical Theater Company and Chandler Symphony Orchestra. She placed first at AMEA All-State in 2012 and second in 2013. Dana was also a finalist at the Phoenix Youth Symphony's Young Musicians Competition in 2013.

Apart from music, Dana enjoys spending her time reading, writing, and being a big history nerd. She participated in Corona del Sol's "We the People" competition government team this year, which placed sixth at the national competition in Washington, DC and is the highest scoring Corona team to date. Her favorite TV shows are Arrested Development and Parks and Recreation.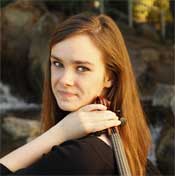 Jeanelle Brierley
Eighteen year-old violinist Jeanelle Brierley is from Gilbert, Arizona, where she studied with Susanne Rothaar; Jeanelle is now a freshman at the Cleveland Institute of Music studying under the direction of Mr. William Preucil.

Jeanelle is a four-time winner of the Music Teachers National Association state competition, an MTNA regional winner in 2011, and was most recently a finalist in the 2012 MTNA National Competition. She participated in and won both the solo and chamber music divisions of the Arizona Musicfest competition between 2009 and 2011 and was a soloist with the Four Seasons Orchestra as winner of the state Vivaldi Competition.
As concertmaster of the Arizona Allstate Orchestra, and a state winner and national finalist in the American String Teachers Association competition, Jeanelle was accepted as a member of the 2012 ASTA National High School Honors Orchestra.

Jeanelle has performed with the Phoenix Symphony as the Clotilde Otranto Prize Winner of the Phoenix Youth Symphony Concerto competition, as well as with the Brevard Music Center Orchestra as the winner of their summer institute concerto competition. She attended the Aspen Music Festival in 2010 and the Brevard Music Center in 2011 and 2012, where she studied with Paul Kantor and William Preucil, respectively.

In addition to music, Jeanelle enjoys photography and digital editing, as well as teaching and tutoring younger children. She hopes to move forward, after finishing her college education, with a career as an orchestral musician.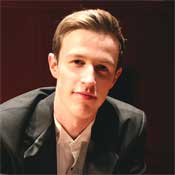 Evan Pensis
Pianist Evan Pensis, age nineteen, made his orchestral debut at age seventeen with the Chandler Symphony Orchestra. Upon invitation, he made his international debut in Perugia, Italy with the Muenster Hochschule Orchestra. Evan has won many piano competitions and has been a featured musician in VSA Kennedy Center Music Festival, Arizona Musicfest, Musicfest Perugia, Valencia International Piano Academy, Classical Exposure, and Colorado Piano Festival.

Most recently, Evan won the Redlands Bowl National Young Artist Competition and is a featured artist in the 69th Annual Redlands Bowl Music Festival in California. He continues his studies on scholarship with maestro Daniel Pollack at the Thornton School of Music, University of Southern California in Los Angeles.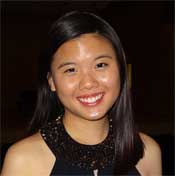 Karen Nguyen
Karen Nguyen is an upcoming junior at Arizona State University in the School of Music in the Herberger Institute for Design and the Arts. She is majoring in Piano Performance under the study of Caio Pagano. Her past achievements include The Arizona Musicfest Scholarship recipient, Arizona Musicfest Competition awards, a scholarship to the Traditional Session of Adamant Music School, and other competition awards. In 2009, Karen participated in master classes with Paul Badura-Skoda, Luis de Moura Castro, and Manuela Gouveia. Karen enjoys performing as well as teaching and attending festivals.