MAY 15, 2013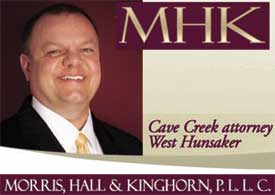 PHOENIX – Morris, Hall and Kinghorn PLLC was honored at the annual Spring Summit hosted by the American Academy of Estate Planning Attorneys. This April's conference in Philadelphia, Pa. was especially meaningful, both for the Academy and for MHK. The conference marked both the 20th Anniversary of the Academy, and MHK's proud affiliation as members of the organization. As part of the celebration, Academy founders Robert Armstrong and Sanford M. Fisch took time to thank MHK for their participation, contributions, and friendship over the last 20 years.

Over the past two decades, the American Academy of Estate Planning Attorneys has become the premier national educational organization promoting excellence in estate planning by providing member attorneys with research and updates in estate, business planning, and tax laws.

According to co-founder Sanford M. Fisch, "When Robert Armstrong and I started the Academy in 1993, we had a vision and a passion for helping other attorneys transform their law firms into thriving enterprises with deep meaning, not just for the attorneys, but for their clients and their communities. It's nice to take some time to pause and reflect on the past twenty years, but we're also excited as we look toward what the future holds for the Academy and its members."

For MHK, joining the Academy 20 years ago fast-tracked the firm's evolution into the estate planning practice it is today; one that stays on the cutting edge of legal matters while keeping the firm focused on continually enhancing each client's experience.

"Academy membership has given us the education, training, coaching, and resources to expand our practice while ensuring our clients and their experience stay at the center of the firm's focus," says Katherine O'Connell, the firms managing partner "The Summit was a nice opportunity to pause and reflect on the past twenty years, but it was also an exciting glimpse at what's next in terms of the technological advances and the new legal strategies I'll be able to use to help my clients", stated Dan Morris.

MHK has devoted its practice to estate planning and elder law matters for more than 40 years and has been a member of the American Academy of Estate Planning Attorneys since 1993. MHK is the only firm in Phoenix to be admitted to Academy membership. The firm has helped thousands of clients meet their estate planning goals and pass on meaningful legacies to their loved ones. To learn more about how you can achieve your estate planning goals, please call 602-249-1328 or visit www.morristrust.com.