BY LINDA BENTLEY | MAY 8, 2013
Carefree approves $6.6 million budget bottom line
Gimson said it had been an honor to serve over the past two years but this will give him more time to dedicate to the Foothills Caring Corps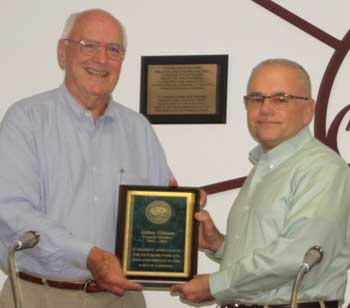 CAREFREE – Mayor David Schwan announced it was Councilman Arthur Gimson's last council meeting, since he chose not to run for reelection, and presented him with a plaque during Tuesday night's council meeting thanking him for his dedicated service to the town of Carefree.

Gimson said it had been an honor to serve over the past two years but this will give him more time to dedicate to the Foothills Caring Corps.

Since the budget was the main agenda item, Gimson also pointed out the 1 percent sales tax meant to pay for fire protection services was met with a $425,000 shortfall last year that had to be subsidized by the general fund and is expected to be that short again this year.

He said $850,000 every two years would be enough to pay for capital improvements.

In fact, he said it would be enough to pay for the capital improvements in the current budget.

"We can't keep pulling money from the general fund," said Gimson, with the hope of replenishing it someday.

He suggested every homeowner be required to pay $150 per year, which is still substantially less than what their Rural/Metro Fire subscription would be so the town does not have to continue subsidizing fire protection from the general fund.

Margo Wittenberg spoke during Call to the Public.

Wittenberg said she and her husband have lived in Carefree since 1977, they were instrumental in the incorporation of the town in 1984 and designed the town seal.

She said a lot of changes have taken place on the national and international level over which they have very little direct input and the vast majority of those changes have not been positive.

"Now, we might not be able to stop what happens in Washington, D.C.," said Wittenberg, "but we sure don't have to imitate them here on the local level where it appears we are trying to spend ourselves into prosperity without the benefit of the fed's printing press to print unconstitutional Federal Reserve Notes."

She said none of the proposed capital improvements, with the possible exception of road maintenance, have much justification or a good business return and are nothing more than someone's idea of trying to stimulate the local economy's business – it's called subsidy with taxpayers' money.

"This is not a function of government," said Wittenberg, who called the proposed splash pad "total insanity."

She asked everyone to get a hold of pocket-size copy of the Constitution, read it and understand what it means.

Her husband Russ Wittenberg followed.

He asked, "Who was the genius or geniuses who dreamed up this set of ideas of just how to bring prosperity to Carefree?"

He talked about the breadth of world's financial condition that he said was not being reported honestly by the mainstream media or either political party.

Wittenberg asked if they would invest any of their own money in any of the proposed capital projects and, if not, why were they trying to stick the taxpayers of Carefree with something they would not invest in themselves.

In conclusion, Wittenberg said, "This proposal is so bad, it is an embarrassment that I have even come down here to oppose it because it sounds like something that comes out of Washington every day. If we can't stop this kind of insanity here on the local level, just how in God's name do we expect to stop this on even higher levels?"

The mayor announced there would be a public workshop at 4 p.m. on May 21 to talk about the large capital improvement projects.

And, he said at 5 p.m. on Friday, June 14, there would be a farewell party for Town Clerk Betsy Wise, who is retiring, at the Carefree Resort.

Town Administrator Gary Neiss presented the budget and said council would be approving the bottom line of $6.6 million with the final public hearing on June 4.

He said Carefree has the largest per capita reserves of any other municipality in Arizona.

The majority of his discussion explained how many of the town's assets, such as upgraded radios for the fire department, the street sweeper, new windows and other energy efficient improvements to the Sundial building were obtained with grant money and unless those items were budgeted the town couldn't procure them.

While budgeting for expenditures didn't necessarily mean they were going to do any of those things, Neiss said unless they included them in the budget they would not be able to do them.

Most of council's discussion evolved around explaining how items must be budgeted before there could even be any discussion about spending money for projects that would still need to come before council for approval.

During public comment, Jim Van Allen pointed to an article in a Scottsdale newspaper where Schwan said the town had $4.7 million in the bank to spend on infrastructure improvements.

Schwan said he was referring to road projects.

Van Allen said, "It doesn't say that."

Van Allen suggested the town not budget for large capital improvement projects and put the money in reserve, stating, "Then if there's an appetite for it, you can budget to do it."

After performing a salary and benefits analysis, Van Allen said it reflected a 24 percent increase for the town's fifteen employees.

Ralph Pipp thanked council and staff for doing a great job in developing the budget.

He said the proposed capital improvements were very important components within the concept of the Carefree Gardens and called the budget very conservative.

Lyn Hitchon asked Neiss if items had to be budgeted before the town could get grants.

Neiss said many grants have timelines associated with them.

Council passed the budget by a vote of 6-1 with Councilman Mike Farrar dissenting.

After the meeting, Russ Wittenberg asked, "Where do they think the grant money comes from?"
He said it was all tax money.