BY LINDA BENTLEY | MAY 8, 2013
Planning commission split on proposed RV Park
With a total of 11 conditions, the planning commission deadlocked 3-3 on the motion
Applicant Mike Noonan (l), seated with his wife Rosanna and property owner T.C. Thorstenson, said the proposed OK Corral project is designed to be a low impact residential development that meets the requirements for commercial ranch use. Photos by Linda Bentley



CAVE CREEK – with Commissioner Peter Omundson absent, the planning commission began the May 2 special session by electing Commissioner Ted Bryda to serve as chairman and Commissioner John Ford as vice chair.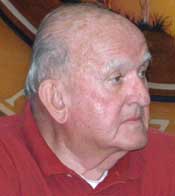 Commissioner Reg Monachino nominated Bryda (l) for chairman and Commissioner Ray Fontaine nominated Ford.

Both votes were unanimous with no other nominations.

Planning Director Ian Cordwell said the planning department was working on recommendations for changes to zoning ordinances it would be bringing to the commission in the near future.

The only item on the agenda was a special use permit (SUP) application by Mike Noonan to allow for a commercial ranch on a 5.3-acre parcel, zoned DR-89 (one home per two acres), located at 38020 N. Vermeersch and owned by T.C. Thorstenson.

According to Cordwell, the parcel, formerly known as the "Julie Terry property," has a "sordid history."

Cordwell said Noonan came to him last year about an RV park, which he said would require rezoning.

He said Noonan came back with a plan which only had RV parking on 25 percent of the property, which Cordwell said is not an allowed use on DR-89 but is allowed for commercial ranch.

Commercial ranch is an allowable use in Desert Rural zoning districts providing the applicant has a minimum of five contiguous acres.

Cordwell told the commission it had four options: It could recommend approval, recommend approval with conditions, recommend denial or continue to a date certain.

He stated the applicant would need to obtain additional right of way for 22 feet on Vermeersch where there is currently only 16 feet.

When Commissioner Dan Baxley asked if the property didn't need to be in a five-acre zoning district, Cordwell said it could be in any Desert Rural zoning district with 5 contiguous acres.

Monachino asked what kind of lighting would be allowed.

Cordwell said they could be 20 feet high with a photometric study and could not spill onto adjacent property.

Monachino also wanted to know if horse shows and music would be permitted.

"Yes," replied Cordwell, who said they would need to meet the dB restrictions.

Cordwell also said the applicant would need a dust permit from the county and Rural/Metro required one fire hydrant.

He stated the commercial ranch designation would not change the underlying zoning.

Bryda said he didn't see where commercial ranch allowed for mobile home parking, bed and breakfast or RV parking.

Cordwell said the RV parking would have to be an ancillary use.

Bryda pointed out there was an unsigned single piece of paper regarding manure and flies and the letter from Rural/Metro was missing.

Cordwell reminded the commission it could place additional conditions on the SUP.

In his presentation, Noonan stated the project, dubbed the OK Corral, was designed to be a low impact residential development that meets the requirements of commercial ranch use.

He said the property was bordered by commercial uses to the south and west, a mobile home park (Petite Acres) to the west and residential (Black Mountain Shadows) to the northwest, which Noonan said was buffered by over 450 feet to the nearest home.

According to Noonan, guests at the OK Corral, consisting of 36 40-foot by 40-foot RV pads and a horse arena, would have the opportunity to access all the horse trails in Maricopa County and Tonto National Forest, leading to Cottonwood, Sedona, Flagstaff and more.

As part of the dust control plan, Noonan said there would be a water truck on site permanently whenever equine activities are conducted.

He said the OK Corral is designed to appeal and attract seasonal visitors seeking to take advantage of the recreational opportunities Cave Creek has to offer.

Noonan went on to say market research indicates the demographic the project is anticipated to attract, tend to dine out twice daily and the RV park's seasonal residents will frequent Cave Creek's western entertainment venues and patronize the town's retail stores.

He said the project presents a "unique and unparalleled economic development opportunity for the town by creating a low impact development that will generate local tax revenue on site while at the same time feeding the local business community."

Noonan told the commission, "This is not going to be a messy trailer park … not $300 month spaces," and said the spaces would be $1,500 to $3,000 per month.

And, as far as noise was concerned, Noonan said, due to the demographics of the users, he was more concerned about noise bothering them.

Ford asked if they could stipulate a time limit on the length of time users could stay.

Fourteen people spoke during public comment, beginning with Black Mountain Shadows resident Larry Johnson, who said, "This is a tough parcel."

He said the reason he suspected it had DR-89 zoning was because it has serious access issues as well as lack of visibility, essential to successful commercial ventures.

Johnson stated, "Since value is related to the type of development that can be achieved, one would presume this property's value is diminished by the restrictions of the DR-89 zone and general plan designation. Obviously, if one could expand the type of development permitted, the value of the property would increase," which he said would be offset by decreased property values in Black Mountain Shadows "as a result of the trailer park."

A lot of different things can be built on DR-89 zoning, Johnson said, "but we never figured that a commercial trailer park could be one of them."

Pointing out the owner had tried to change the zoning before and was denied, Johnson said it appeared to him he was using the application for a SUP to simply get around the zoning change and general plan amendment that should otherwise be required.

Johnson said the town is put in a difficult position where one side wants a "yes" vote and the other wants a "no" vote.

"Someone is not going to be happy with your decision," said Johnson as he asked the commission to deny the application.

Todd Gilson also asked the commission to deny the application and stated, "I believe this is a land speculator.

He said there had already been some backtracking since an article in a Phoenix newspaper claimed there would be barrel racing, team roping and other activities.

Gilson said it would open the door for trailer parks to crop up all over Cave Creek.

Harold's owner Bill Vale spoke in favor of the proposed project and said it would be a good use for the property, which he said would bring visitors who will become future residents.

Noonan's son Sean said his first choice for the town would be a hotel but in the alternative, this project would create a low impact development.

Randy Hargrove said he was from Texas and brought his RV with him and had no place to park it.

Noonan's wife Rosanna said she talked to a lot of businesses in town who were in favor of the project.

Adam Trenk said, "I support this project because I believe in free enterprise."

He said the town needs a hotel and while this wasn't a single hotel it would be 36 hotels on wheels.

Trenk said if the road is sufficient for a fire truck it should be sufficient for RVs.

He also corrected those who used the term trailer park and said it was an RV – recreational vehicle – park as he encouraged the commission to vote yes.

Bob Moore, another Black Mountain Shadows resident, spoke in opposition to the project.

Applauding Noonan's efforts, Moore said, "Meanwhile, here we are again, same thing, different approach."

Doug Hankins, who said he lives 410 feet from the site on Stevens Road, stated he had no confidence in the property owner.

His wife Karen also spoke to say the property has been out of compliance for the two years they've been here with trailers and some sort of booth on the property.

Meridy Hulsing, owner of Petite Acres, the trailer park to the west, said she spent a lot of time reading the ordinances.

She said there were three trailer parks in Cave Creek that were grandfathered in, with hers being the last one still in operation.

While there are 45 pages addressing the zoning, Hulsing said more attention was being paid to the four pages for special uses and asked, "What is this really going to be?"

Business owner Lori Stoutenburg stated she lives in Malibu where "we have a beautiful RV park," and said, "I approve this."

Carefree resident Mark Bowman called the project a low-impact benefit that would bring people with disposable income to dine and shop.

Darrell Hulsing said Petite Acres has a website and no one was interested in parking an RV.

He said, "I think this is more about bike week."

Hulsing said it would cost $1 million to develop the site and asked, "How are they going to make their money back?"

Cristine Masson, another Black Mountain Shadows resident said, "This fancy shmancy horse trailer stuff – I've not seen any of these in Cave Creek."

Stating she was not in favor of the proposed project, Masson called it a blight to residents in her subdivision and questioned the impact it would have on law enforcement.

Referring to Thorstenson, Masson said, "What he says and what he does are two different things."

Offended by anyone challenging his integrity, Thorstenson said, "I just gave the town $100,000 in impact fees" and stated his proposed project is one foot away from Petite Acres.

He said, "We have $60 million in debt. How are we going to pay that?"

Thorstenson stated the project was good for the town of Cave Creek.

Ford moved to approve recommendation of the SUP with a second from Monachino, both of whom suggested additional conditions for approval.

Ford said he would like to see some stipulations on the length of time one can stay, the amount of time one must leave before returning, an increase in the percent of spaces requiring horses and an additional fire hydrant.

While Baxley stated he always thought that parcel should be commercial, he said, "What we do is precedent setting," adding he couldn't support a project that set a precedent of converting residential property to RV parks.

Monachino said he also thought the property should be commercial and was in favor of the SUP because it is in the town core and stated he would not be in favor of it otherwise.

He added a few more conditions, including a horse step to prevent motorized vehicles from accessing the wash, a privacy fence to protect homeowners in Black Mountain Shadows, a berm with sufficient vegetation to shield the RV park from property to the north and no generators.

Commissioner Rae Iverson said the property was already in violation of residential standards and she was concerned about the pattern of violations – trailers hooked up to semi-permanent sewer and hooked up to electricity.

She said, "Calling an RV park residential is just playing with words."

Bryda said he had a problem with an RV park while pointing out the SUP was contingent on acquiring right of way.

He said, "Cave Creek Building Supply was very adamant about not giving up any more right of way. I don't think you'll get it."

Bryda also stated he did not want to set a precedent.

With a total of 11 conditions, the planning commission deadlocked 3-3 on the motion with Ford, Fontaine and Monachino voting to recommend approval.

Cordwell said the tie vote will move forward to council with a recommendation for denial during the second meeting in June.