MAY 8, 2013
Commencement Celebrates Student Success

U.S. Professor of the Year to deliver Commencement address

Quick facts:
Friday, May 10, 2013, 7 pm
Phoenix First Assembly
13613 North Cave Creek Road
Phoenix, AZ 85022

PHOENIX – April 29, 2013—Graduation is a time to celebrate stories of success and the paths that students have taken to reach their goals. Paradise Valley Community College will celebrate the accomplishments of the Class of 2013 at the college's 22nd annual Commencement ceremony, taking place at 7 pm on Friday, May 10, 2013 at Phoenix First Assembly.

This year, 976 degrees and certificates are being awarded, including 425 academic transfer (AA); 73 Associate in Science (AS); and 65 Certificates of Completion in Nurse Assisting. The graduating class also includes new 34 new Registered Nurses and 76 firefighters (15 Associate of Applied Science|AAS degrees and 61 Certificates of Completion), as well as 26 paramedics (eight AAS and 18 Certificates of Completion). Among the graduates are 63 members of the Honors Program, and 91 members of Phi Theta Kappa, two-year college honor society.

The 2013 Commencement address will be delivered by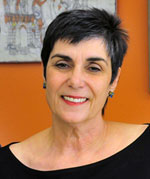 Dr. Lois Roma-Deeley, PVCC creative writing faculty member who was named 2012 U.S. (Community College) Professor of the Year by The Carnegie Foundation for the Advancement of Teaching and the Council for Advancement and Support of Education (CASE). She was one of just four honorees chosen from over 300 distinguished professors nationwide nominated in the categories of community college; baccalaureate college; doctoral and research university; and master's university/college.

An award-winning author and poet, Dr. Roma-Deeley joined the PVCC faculty in 1996. Since then, she has inspired her students in the creative writing program, increased course offerings, established a women's studies curriculum, and developed a visiting writer and scholar lectures series.

The ceremony also features three student speakers whose selection to address their fellow graduates was based on academic performance and commitment to service.
Oshea (Shea) Chaudhary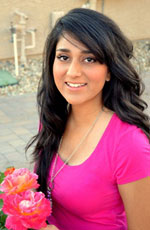 "My favorite part about Paradise Valley was being a part of student life and meeting so many amazing people."

• 20 years old.
• Graduated from Sandra Day O'Connor High School in 2011.
• Honors student graduating with an Associate of Science degree in Biological Sciences.
• Goals: Attend ASU; earn a BS in Biological Sciences and an MBA; become a pediatrician or surgeon.

A student leader since her freshmen year, Shea was first a Senator and later Chairperson of the Student Leadership Council (SLC); member of the PEAK Leadership Institute; and Vice President of Leadership for Phi Theta Kappa (PTK), national community college honorary society. She also worked on the campus newspaper, the Puma Press, as a community editor and writer.

Shea is a dedicated community volunteer who has assisted in patient care at the John C. Lincoln Deer Valley Hospital Emergency Room for the past six years. At Indo Pak Christian Church, she not only sings, but also spends time as a children's instructor. She has volunteered for Fresh Start Women's Foundation, a non-profit organization dedicated to helping empower women through engagement and education, and tutored at KUMON, an after school reading and math program supporting children to become self-learners.
Aaron Pressley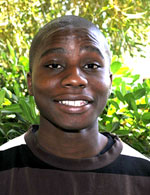 "The experiences I've had here will help me in the future. I love people and I'm inspired by the good of the people. I want to represent them one day."

• 20 years old.
• Graduated from Deer Valley High School in 2011.
• Honors student graduating with an Associate of Arts in Political Science.
• Goals: Attend UofA, major in PPEL (Philosophy, Politics, Economics, Law) program; become president of the United States.

Aaron Pressley said "yes" to every opportunity he discovered at Paradise Valley Community College. He found purpose, direction and inspiration at PVCC, and channeled his passion for social change into meaningful work that has strengthened our community.

Aaron has made lasting contributions to the Northeast Phoenix Neighborhood Action Alliance, and Diversity Inc., a PVCC flagship program that promotes the ideals of justice, inclusivity, diversity appreciation and service to the community. One of his proudest accomplishments is the PVCC Palomino Teacher Assistant Program, an initiative he created that engages PVCC students as assistants to teachers at local elementary schools. He expanded that into the Palomino Academic Bowl, a program that engages PVCC students as tutors to elementary school students, and culminates in an annual academic bowl.
Julie Mataway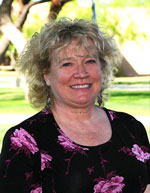 "At PVCC I was guided by resources. There are so many people here that have helped inspire me. It has not been easy though. I had to work hard and get it done. Now it almost seems like a miracle that I'll be graduating with my first degree and I'm so proud of that."

• 49 years old.
• Receiving Associate of Arts degree and Certificate of Completion in Journalism.
• Goals: Attend ASU; become a journalism teacher.

Julie is continuing what has become a PVCC family tradition. Her daughter took classes at the college while a high school student at the AAEC charter school housed on campus, and her son is currently enrolled at the college.

A former bookkeeper and youngest of 10 siblings, Julie is a passionate storyteller, who honed her exceptional writing skills at PVCC's campus newspaper, the Puma Press. She held positions as features editor, copy editor, and editor, wrote stories, covered arts and entertainment, and even penned an advice column, "Dear Julie." She gained valuable industry experience as an intern at Sheknows.com, a women's-focused website that shares health, fashion and parenting information.

On campus, Julie was a member of the Adults Who Are Returning to Education (AWARE) Club that supports new, returning and continuing adult learners.

Paradise Valley Community College salutes our Class of 2013!