BY LINDA BENTLEY | MAY 1, 2013
Out-of-towner in tizzy over 'official newspaper'
PAC chair calls newspaper editorials and endorsements 'in-kind campaign contributions
CAVE CREEK – With ballots delivered to mail boxes, Cave Creek is in the final throws of the most contentious and expensive election in the town's history, with Political Action Committees (PAC) springing up to ensure election of a slate of four candidates and defeat Councilman Thomas McGuire, the last incumbent still standing.

Meanwhile, Town Clerk Carrie Dyrek has been bombarded with public records requests and campaign finance queries.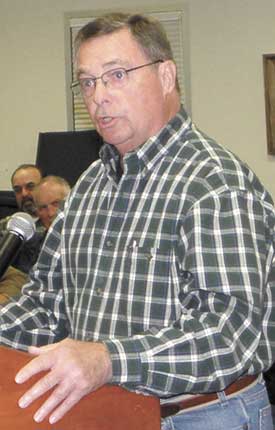 One was from Bob Moore (r), who initially sent an e-mail to Thomas McGuire asking if he planned to declare editorials in Sonoran News as "payment in kind" on his campaign finance reports.

Moore, chairman of the newly formed PAC CaveCreekCourier2013, threatened McGuire with "liability to yourself and to your treasurer if you are found in violation of these civil codes."

Moore goes on to state, "Please also keep in mind that the 'favorable treatment ' provided for you by the Sonoran News was not at any time offered to or accepted by any opposing candidates. This treatment was exclusive and favorable to you for the single purpose of reelection."

Moore got it all wrong.

First off, Sonoran News doesn't solicit guest editorials. It never has. The newspaper receives countless submissions from which Editor/Publisher Don Sorchych makes his selections each week.

Second, none of the slate of candidates Moore supports with his new PAC has submitted any editorials or letters for Sorchych's consideration.

In response to Moore's in kind allegations, McGuire referred him to Dyrek.

In Dyrek's response to Moore, she stated, "Upon consultation with the town's attorneys they have determined that having articles in the newspaper or a newspaper supporting a candidate is not an in-kind donation."

Meanwhile Sewickley, Penn. resident Mike Chutz sent a records request to Dyrek regarding Sonoran News' designation as the official newspaper of the town of Cave Creek.

Chutz said the designation "seems contrary to the First Amendment."

He asked for a copy of the ordinance proclaiming Sonoran News "the official newspaper of the town of Cave Creek" plus copies of "all supporting documents, letters or e-mails generated or received by town staff in the process of determining the need for an official town newspaper and in determining that the Sonoran News would be that official paper."

He also requested an "official copy of your advertising policy so I may know how one goes about receiving advertising business from the town if one is in the newspaper business," and said, "There may come a day when other publishers may seek to vie for the title of 'official newspaper of the town of Cave Creek."

As Chutz asked Dyrek to consider his e-mail an official request, he stated, "If you require any additional forms be filled out I will be happy to do so. If you require that the request be presented through an attorney licensed to practice law in Arizona please let me know the supporting law for that and I will do that as well."

In closing, Chutz said, "I intend to fully understand this concept of 'official paper of a municipality.' I have never heard of such a thing."

Sonoran News won that designation fair and square, when council reviewed bids for legal advertising a number of years ago.

The Record Reporter, which prints only legal ads but has no presence in the community, and the now defunct Foothills Sentinel and Desert Advocate, neither of which met the statutory definition of the term "newspaper" for legal advertising, vied for the title of "official newspaper" along with Sonoran News, which meets the statutory requirements through its arrangement with the Gila Bend Sun.

And while Chutz finds the idea of an "official newspaper" a strange, anti-First Amendment notion, it is quite common to have an "official newspaper" or "newspaper of record" for the purpose of keeping the citizens of a city or town informed of proposed actions by the planning commission or council.

ARS 11-255 mandates Arizona's counties to contract annually for all advertising, publications and printing required to be done or made by all departments of county government and states, "The newspaper which is awarded the contract pursuant to subsection C may be referred to as the official newspaper of the county."

The Glendale Star is recognized as the official newspaper of record for the city of Glendale, Ariz.

The Citizen is the official newspaper of Pasadena, Texas.

The state of Washington also has a statute (RCW 36.72.075) requiring its counties to designate an "official county newspaper" at its first meeting in April.

The term, "official newspaper" or "newspaper of record" is typically used to describe a major newspaper with a large circulation.

And, in their book: "Newspapers of Record in a Digital Age: From Hot Type to Hot Link," Shannon E. Martin and Kathleen A. Hansen wrote, "A 'newspaper of public record,' sometimes referred to as an 'official newspaper,' refers to a publicly available newspaper that has been authorized by a government to publish public or legal notices."

As is the case in Arizona and Washington, the designation is often established by statute or official action and publication of notices, whether by the government or a private party, is usually considered sufficient to comply with legal requirements for public notice.

Martin and Hanson's book opens with, "Newspapers as a record of the day's events and conduit for public business have been part of life in the United States for several hundred years. Some newspapers, like the New York Times, are often referred to as newspapers of record. While some newspapers claim this characteristic for themselves, others are designated as 'record newspapers' to serve some specific community functions, such as the town chronicler or public notice distributor."

During the April 23 candidate forum at the Buffalo Chip Saloon, Scott Dahne referred to articles in Sonoran News to document McGuire's position on matters during past council meetings.

Citizens have likewise referred to articles in Sonoran News during public comment at council meetings to confront council members on theirs or the public's past positions on matters.

Sonoran News is often quoted from as an accurate record of historical events.