MAY 1, 2013
Foothills Food Bank to hold grand opening
Sonoran News readers to attend "Donation Invitational"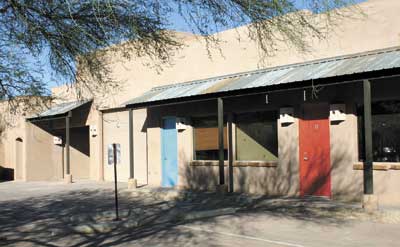 CAVE CREEK – On May 18, 2013, the Foothills Food Bank and Resource Center will celebrate the grand opening of its new 5,000-square-foot facility at 6038 E. Hidden Valley Road, Cave Creek. The event will take place from 10 a.m. – 4 p.m. with a ribbon cutting planned for 10:30 a.m.

According to food bank executive director Pam DiPietro, the new complex will allow the food bank to better serve the more than 9,000 individuals and families in the northern Desert Foothills. "We all have been affected by the recession in recent years and the people in our community have felt the impact of this economy more than many," says DiPietro. "We have an increased number of individuals who live in their cars or in the desert. We also have food bank clients from very affluent areas. The recession has reached far and wide, sparing few in its path. Since 2008, our client base has increased by 486 percent."

In order to pay for its new home, the food bank has launched a one-half-million-dollar capital funding campaign.

Sonoran News readers are the best, most generous folks we've ever known. So ... you are all invited to consider the event to be the "Grand Opening Donation Invitational." Whether you bring with you non-perishable food or personal items (the Wish List is updated monthly at foothillsfoodbank.com) or your checkbook, please be your normal generous selves – as you always are! During the summer months donations always drop because of the absence of members of our communities who visit cooler parts of the country. Monetary donations will help defray the cost of the new building and donations of food and personal items will help shore up the inventory until fall. With your help, we can make this day count in amazing ways! If you can't attend on May 18, please make a donation by mail: P.O. Box 715, Carefree, AZ 85377. If you write GO on the memo line of your check, the happy folks at the food bank will know we sent you!

Until such time as we are given "official notice" of the switch to the new location, please continue to drop off your donations at 6920 E. Cave Creek Road in Cave Creek. For more information, call 480-488-1145 or visit the Foothills Food Bank and Resource Center at www.foothillsfoodbank.com.