My View
BY DON SORCHYCH | MAY 1, 2013
I voted
Well the Cave Creek election is getting down to the wire. Sadly, one of the best candidates in the field was Steve LaMar who was voted out in the primary. Chances for a low information voter turnaround leading to a council majority were defeated when Shelley Anderson and Jim Bruce dropped out. Dick Esser dropped out and changed his mind but was kicked out in court after a lawsuit filed by Jerry Freeman. Tom McGuire is the last incumbent council candidate. Vice Mayor Ernie Bunch, Adam Trenk and Mayor Vincent Francia won in the primary.

I voted only for McGuire and hope he gets in. None of the slate is qualified but three will get in anyway even if they get one vote.
If you hate political signs you couldn't help but notice that money is no object to the slate as their signs became bigger and more obstructive.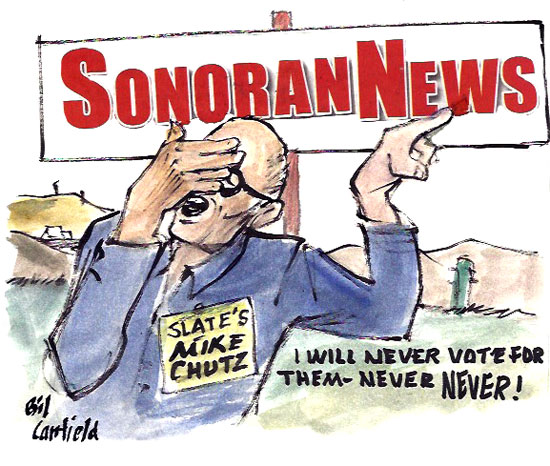 Since we have partially outed Mike Chutz he has gone after Sonoran News as if it were a candidate. I will remind the Pennsylvania voter that trying to restrict our advertisers is illegal under the law and many loyal advertisers will finger him or his lackeys. He claims to be a lawyer, but his knowledge of the law in Arizona is arguable.

Be sure and vote YES on Proposition 459, the referendum filed by Carefree citizen Jim Peirce. Voting YES will support the council's zoning and continue growing sales tax receipts for the town. It will also tell non-citizens like Peirce, Chutz and Anna Marsolo to mind their own business. You should also know that each of the slate except Charles Spitzer was against Prop. 459 in a recent forum. However, Spitzer said the town shouldn't rezone without a plan. Hello? The town does have a plan which is called Area 25 which leaves Spitzer in the political never never land of saying nothing.

The slate makes no bones about being a slate anymore since at least three will be elected. The latest signs list the four who are running. They also mailed a flyer which lists the four on one side and endorsers on the other side. What a list. Bill Allen who served on the planning commission, Tom Augherton, who is distinguished with being mayor when he and David Phelps voted in a table napkin rendition of Ken Holmquist's development, were sued and the town had to pay out $1.2 million. A lifelong lobbyist, Augherton has lived at the public trough.

Dick Bartholomew was an interim mayor who was the target of Bernie Buffenstein's wastewater system subcommittee (WASSUM), so why he endorsed the slate only he knows. Since he is a professional engineer maybe he thinks they will send business his way.

Rae Iverson is on the planning commission and is known as negative about everything.

Gilbert Lopez was on town council for ten years and served as vice mayor also. He was always a strong supporter of Usama Abujbarah until he, as vice mayor, promised the Carefree Chamber a $10,000 check. He was furious when Abujbarah gave him the bad news that he didn't have the authority to do that and he has been outraged since. Council later voted down the $10,000 donation.

Grace Meeth was on council but when she ran in 2009 she was number nine in the primary and did not qualify for run off.

There could be a book about David Phelps' incompetencies and costs to the town. He is the treasurer of Chutz's PAC, an appointment that underlines the quality of Chutz's appointments.

George Ross was a strong advocate of the town and spear headed important committees. When he became a mayor and town manager hater he jumped to the other side. He is a control freak who refused to run for office but tried to control everything anyway. No doubt he will be part of Chutz's so-called think tank.

Shea Stanfield was on council for four years. When she ran in 2009, she was last of 11 candidates in the primary.

Candidate Reg Monachino came in 10th between Meeth and Stanfield. Maybe this slate will work for him.

Jerry Whitmore, CPA, while on council made the interesting comment that the best way to lose money is to start a restaurant, except for Cave Creek where you were guaranteed to be successful. His wife started Fandango, which failed, and after several other owners it is now a pawn shop. He was defeated in the 2009 run off after he joined J. Smith's slate.

As I said, some list. Slate endorsers as a group speak loudly if you are closely paying attention.
There is no question the slate is after the town manager's job. They may have even lined up Tempe's former Town Manager, Terry Zerkle as his replacement. Zerkle meets all their qualifications since he was wrong every time he wrote a letter to an agency to complain about Cave Creek.

I have lived here since 1990 and started Sonoran News in 1995. Abujbarah has outperformed all of the other town managers by leagues. He also has developed a first class staff and let us not forget that even in poor times the staff is highly employable elsewhere.

Slate spokespeople have said we don't print letters about their candidates. I remember one letter which was so hateful and false it wasn't printed. Linda Bentley called both Monachino and Spitzer to ask them questions about their candidacy. Neither returned her calls. So she didn't go any further with the remaining two candidates. And they say we are unfair?

It is clear to me, and I hope to the voters, that a slate answering to a non-citizen is not only strange, but obviously agenda driven, one which he fails to present.

Tom McGuire is the remaining councilman and represents one of three which, I believe did a spectacular job of representing the town. If any of the slate vote from their heart and brain instead of following Chutz's instructions Abujbarah will remain where he belongs – in the Cave Creek Town Manager's office.