MAY 1, 2013
FCF Volunteer of the Year award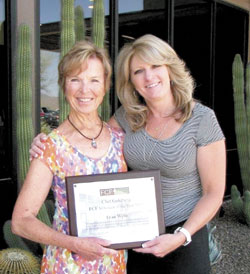 Forty two volunteers from the programs under Foothills Community Foundation gathered on April 19th to be recognized for the outstanding work they do for FCF. "Without volunteers, we could not function", says Executive Director Karen Mackiewich (r). The event was held at the Phoenix Zoo where attendees were treated to a "close encounter" with several charismatic zoo residents.

Contenders for the prestigious Goldberg Volunteer of the Year Award came from the programs under the FCF umbrella. This year's award went to Fran Wylie (l) of the Desert Awareness Committee, a group under Partners In Education, for her innumerable hours of work recruiting, training, organizing and leading the team of volunteers which presents a classroom desert experience to all fourth grade classes in the foothills area. The classroom program, known as Desert Reach, has reached over 5,000 students since inception in 2003. We applaud Fran's commitment and dedication to the mission of the Desert Awareness Committee through this classroom program. Training for volunteers takes place in January for the program which is presented January through March.

The Chet Goldberg Volunteer of the Year Award was initiated in 2011 to honor the founding volunteer of the Foothills Community Foundation, Chet Goldberg. Fran's name will appear on the permanent plaque housed at the Holland Community Center, 34250 N. 60th St. Bldg. B, Scottsdale, AZ 85266.