BY MARIELLE D. MARNE | MAY 1, 2013
Beyond real estate to relationships from Russ Lyon's Joanne Eannacone
CAREFREE – Take it from someone savvy: "I truly believe it is a good time to buy real estate," Joanne Eannacone of Russ Lyon/Sotheby's opined. Given her 20 year tenure in the real estate industry, one that has weathered the extreme highs and the devastating lows that rendered so many homeowners underwater, Eannacone knows.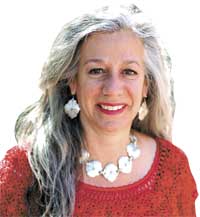 Along with her knowledge comes a certain comfort when you call her to sell/buy property. To Eannacone, it's not solely about the sale. She likes to build relationships, and that thinking has earned her countless referrals. It often becomes a family affair. "I may sell the parents' house, and then end up working with the daughter, and then finding a home for the son-in-law of an aunt." That trust stems from Eannacone's integrity, her problem solving ability by thinking outside the proverbial box and her willingness to help clients and peers.

"Ultimately, my goal is whatever is best for the client. I do what I can so it's a win-win situation for all," she explained. With an attitude like that, clients know they are in capable hands. It's no wonder a fellow agent called Eannacone an icon in the industry. She's found her calling, forged her path and continues to make every transaction as fun and stress-free as possible.

Before remodeling baths, updating kitchens or repainting walls, give Eannacone a call. "I'll take a look, we'll sit down, we'll chat and we'll decide the best plan for you." To buyers, she suggests, "Tell me your fantasy, your dream for your home and we'll do our best to find it. And know I'll never sell you a home you can't afford." Her listings run from $199,000 to $8.5 million, so there's a property for every budget.

Explore your options by contacting Joanne Eannacone at 602-803-0633 or Joanne.Eannacone@RussLyon.com.