APRIL 17, 2013
Grand Opening on Saturday, May 11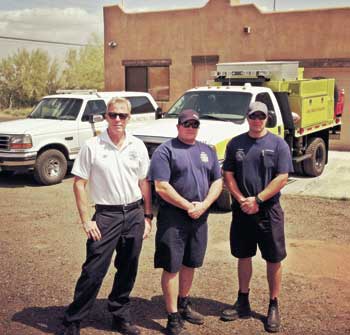 RIO VERDE – On Wednesday, April 10 Brush 826 from the newly opened Rural/Metro Fire Station 826 at 16309 E. Rio Verde responded on a call in the Rio Verde corridor. A woman was thrown from a horse and suffered a head injury. She was transported to Scottsdale Healthcare on Osborn; her condition warranted the services of a Level 1 trauma center. The Rural/Metro Fire Department was on the scene and provided Paramedic level ALS care within five minutes. The new station, which opened Monday, April 8, is already proving invaluable in helping to ensure better patient outcomes.

On Saturday, May 11 from 9 a.m. – Noon, Rural/Metro Fire Department will be hosting a pancake breakfast and Grand Opening at the new Station 826. The public is invited to attend.

Station 826 will be staffed 24 hours a day, 365 days a year, initially with a Captain and engineer. Although Engine 826 might look like a brush fire truck, it is a paramedic urban interface engine, perfectly suited to meet the unique needs of the community, from a wildland and topography aspect. The water tank, pump and hose are all larger to accommodate the homes and potential fires in the Rio Verde area. Rural/Metro Fire Department is pleased to expand their service to the people in the area by offering faster response times and additional equipment.

For more information and to subscribe to Rural/Metro Fire protection service visit ruralmetrofire.com.