BY LINDA BENTLEY | APRIL 17, 2013
Rather than focus so much on residency, Mozilo said the selection of committee members should be based on experience and background
CAVE CREEK – Mayor Vincent Francia said he was the one who placed the item regarding the reactivation of the water advisory committee on the agenda for discussion and possible direction to staff.

The item drew a number of water customers and former committee members from the Desert Hills area to Monday night's meeting.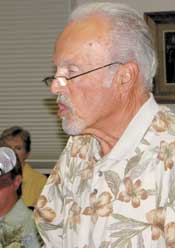 During public comment, former councilman Ralph Mozilo (r), who chaired the committee, said he encouraged council to reactivate the advisory committee so water users who don't live in Cave Creek are represented.

However, he suggested, rather than the former 10-member committee, he felt five would be sufficient.

Rather than focus so much on residency, Mozilo said the selection of committee members should be based on experience and background.

Mozilo touched on the committee's recommendations to council and how the water rate structure was ultimately adopted by council.

He also said the town had a "very competent utilities manager."

Rob Hamblin, a Desert Hills resident since 1986, said he has been a civil engineer for over 30 years and served on the water advisory committee.

He too encouraged council to reinstate the water advisory committee.

When Vice Mayor Ernie Bunch asked if they'd be seeing an application from him if council voted to reinstate the committee, Hamblin answered affirmatively.

Hamblin also thanked council for its "swiftness" in addressing the letter received by some Desert Hills customers regarding the requirement to install backflow valves.

Rene Kemp said she has yet to receive one of those letters and stated "I'm not going to buy one of these for copper thieves to have a field day."

Barbara Middleton stated, contrary to Utilities Manager Jessica Marlow's claim that members of the water advisory committee agreed the committee was no longer needed, many members told her they were taken off guard when they received letters stating their services were no longer needed.

Carefree Mayor David Schwan said Cave Creek water serves approximately 600 Carefree residents and he offered council two suggestions, one of which was to have the Carefree member of the committee selected by the town of Carefree.

Schwan's other suggestion was for the town to keep a separate set of books for the water utility, like Carefree does, so Carefree residents can see that their water fees are only going to pay for the water utility and not any other town services.

Thad Baird, a former member of the water advisory committee, said, "Shame on whoever sent those letters out," and stated there were laws against what they threatened to do, which was shut people's water off for failure to comply.

Baird said, "You can threaten all you want."

Francia said he believed a seven-member committee might be a better number so that those who use the town's water will have a voice.

Stating water is the most important town asset, Francia also suggested the committee report to council once per month rather than once per year.

Councilman Dick Esser said he agreed with what both Francia and Schwan had to say and noted there were 1,700 water customers in Desert Hills.

Esser said he was in favor of reactivating the committee and reducing the number of members. In fact, Esser, along with Councilwoman Shelley Anderson, voted against dissolving the committee in 2011.

Councilman Thomas McGuire said he regretted the way the communication was done but stated the town needed to be proactive in protecting the water supply rather than reactive after an amoeba is found in the water. He too supported reactivating the committee.

Councilman Steve LaMar said council voted to do away with the committee because it was under the impression there was no interest and people stopped showing up. He said there was apparently some miscommunication.

Councilman Jim Bruce agreed.

Bunch said, "I always said if we needed it we could bring it back."

There was consensus among council to reduce the number to seven and, with Anderson absent, voted unanimously in favor of directing staff to proceed with seeking applicants to reinstate the committee.

Francia asked that the item be brought back to council on May 6.

Council unanimously authorized a resolution supporting the town's application to the Arizona Department of Water Resources (ADWR) for up to 1,300 acre-feet of non-Indian agricultural CAP water at a cost of $1,388 per acre foot.

Marlow said it was a rare opportunity and comes from a water settlement act of 2004.

According to Marlow, 70 percent of the allocation may be used as an assured water supply.
And while ADWR pointed out the town will not get everything it applies for, Marlow said Desert Hills is considered a prime candidate because it has no alternative water supply than ground water and there is already a delivery system in place to transport CAP water.

She said applications are due in June and although ADWR allows for a four-year payment plan, the town probably won't have to start paying for five years because the allocation process, which also must be approved by the Department of Reclamation, is lengthy.

Council voted unanimously to award a $423,000 contract to Sunland Asphalt to complete the town's chip seal projects for fiscal year 2013.

Council also voted unanimously to authorize negotiations with WIFA (Water Infrastructure Finance Authority of Arizona) to restructure one of the town's loans to split it into two loans.

The conditions of the loan require a source of revenue be stated and the town did not meet the required ratio. By splitting it into two loans, the town will exceed the ratio required by each category.

For utility revenues stated as a source, the town must generate at least 1.2 times the revenue required. For excise taxes stated as the source, the town must generate two times the amount.

According to Finance Director Bob Weddigen, this also puts the town in a better position to retire at least one of the loans as early as 2017.

When Bunch questioned the emergency clause in the resolution, Town Manager Usama Abujbarah said Fred Rosenfeld, the town's bond attorney, drafted the resolution and worded it as he generally does.

However, Abujbarah stated the emergency clause was not necessary.
Council voted unanimously to approve the resolution with the emergency clause removed.