APRIL 17, 2013
Incentive bags make a difference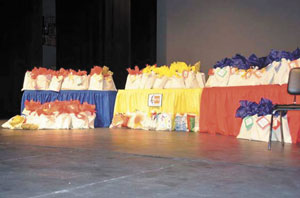 On April 11, ninety canvas incentive bags from the Sonoran Arts League were presented to local students at the Celebration of the Arts at the Cactus Shadows Fine Arts Center, the Art Education & Community Services partner on this special event. The students ranged from kindergarten to high school and were given age appropriate art supplies and art appreciation books in canvas bags.

Blue tissue and blue handles on the bags were in celebration of Calvin Schenck. Calvin is a son of Eddie and Virginia and as a young artist received the bags the past two years. Calvin is twelve and very ill with neuroblastoma and could use best wishes from all of our recipients and the community.

The committee consists of Dr. John and Linda Budge, Tracey Saliba, Carolyn Sato, and Judy and Jim Bruce. Eddie Sparr has acted as a volunteer advisor on the committee. Each art teacher at CCUSD and Foothills Academy chose ten students with one special artist receiving a super incentive bag containing gift certificates for personalized art supplies.

The Sonoran Arts League believes that its major mission is to give to our community by advancing art, artists and education. The Board of the Sonoran Arts League approved thirty-five $50 scholarships for all of the middle and high school bag winners.

These bags along with the beautiful art displayed at FACE gallery by the student winners certainly help to inspire artistic awareness that is so essential to the well being of our children and the community. Many of the art pieces will be printed and framed for a show at the Desert Foothills Library for Hidden in the Hills in November! Please join us for that celebration!

The Sonoran Arts League also grants scholarships, mentors, hosts a yearly tour of major area art museums and provides a bus for high school artists to attend our annual Hidden in the Hills Studio Tour. The Summer Art Institute will also be held this summer at Cactus Shadows High School sponsored by The Sonoran Arts League and Art Education and Community Services.