BY LINDA BENTLEY | APRIL 10, 2013
Sixth Annual National Pharmaceutical Take-Back Day
MCSO will be conducting a take-back program where people can safely dispose of expired, unwanted or unused medications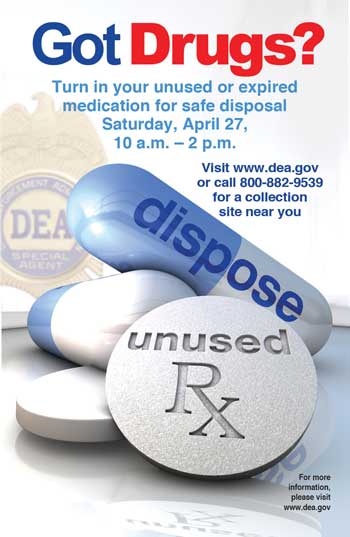 CAVE CREEK – Maricopa County Sheriff's Office has once again teamed up with the U.S. Drug Enforcement Administration (DEA) to participate in the sixth annual National Pharmaceutical Take-Back Day.

In connection with the DEA, MCSO will be conducting a take-back program where people can safely dispose of expired, unwanted or unused prescription and non-prescription medication to avoid ingestion by those for whom the drugs were not intended.

Some medicines may be especially harmful and, in some cases, fatal with just one dose when used by someone other than the person for whom the medicine was prescribed.

The drug take-back event for the Cave Creek/Carefree area will be held from 10 a.m. to 2 p.m. on April 27 at the MCSO substation next door to Cave Creek Town Hall at 37622 N. Cave Creek Rd. and at 3701 W. Anthem Way in Anthem.