APRIL 10, 2013
Thalia Marie Arnett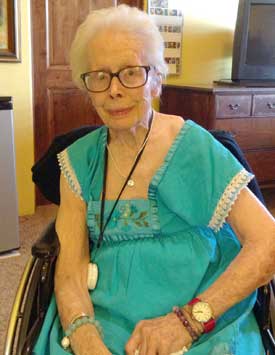 Thalia Arnett passed from this world on March 26, 2013 in Scottsdale, Arizona. She was 104 years old. Thalia was born in Florence, Alabama in 1908, and lived there until 2003, when she relocated to Carefree, Arizona.

She was the daughter of William Arthur and Mamie Estelle Pace of Florence, and married Bert Girard Snyder in 1928. They had a son, Donald David Snyder, in 1932. Bert Snyder died in 1941, and she married Noble Arnett in 1946. They spent many happy years in a home on Shoals Creek before moving back to Florence in their later years, and celebrated their fiftieth wedding anniversary in 1996. Mr. Arnett died in 1997 and Thalia relocated to Arizona in 2003 to be with her son, Donald Snyder, and his wife Roberta, and loved the Arizona desert and mountains. She was predeceased by two sisters and a brother, and is survived by her son, Don Snyder; two granddaughters, Donna McGraw and Blair McWay; and four great grandchildren. Thalia was loved by friends and family and will be greatly missed.

Memorial Services will be held at Christ the Lord Lutheran Church in Carefree on April 20 and at the First Presbyterian Church in Florence, Alabama on May 2. Contributions may be made to Hospice of the Valley, Phoenix, AZ.
APRIL 10, 2013
Jo Walker
Jo Walker of Cave Creek died January 31, 2013, joyously rejoining the love of her life, Ed walker, who had died December 8, 2007. Joanne Cecile Donnelly Walker was born in Chicago, Ill. on December 7, 1932 to Cecile Lois Elfstrom Donnelly and Joseph H. Donnelly; both had predeceased her.

Jo grew up in Cecil, a small lakeside tourist town in Wisconsin. She graduated from the College of Saint Teresa in Winona, Minnesota with a bachelor's degree in Medical Technology. She trained at Saint Francis Hospital in Evanston, Ill. before working in hospitals and clinics in Wisconsin, Iowa and Texas. This was followed by working in research in the Internal Medicine Department of the University of Texas Southwestern Medical School in Dallas, Texas. She considered this the most interesting part of her career.

It was in Dallas that she met Ed (Edwin) Walker of Houston, Texas. Their marriage was the beginning of many adventures, making a lifetime of happy memories. They traveled and camped in Texas, New Mexico, Arizona, California and Mexico.

During the 1970s Jo and Ed made may friends square dancing in Dallas and then in Scottsdale, Ariz. Some of these friendships have continued through the years. They were funding officers of the Desert Drifters Square Dance and Camping Club, which still exists today. While in Scottsdale, Jo volunteered at the Arizona Section of the Scottsdale Library.

A few years were spent back in Texas, at Lubbock, where again good friends were made and real winters were experienced. Returning to Arizona, their new home was built in Cave Creek. Enjoying the desert, it wasn't long before Jo was again volunteering. She was appointed as a member of the Area C & D Planning Committee, then the Desert View Tri-villages Planning committee, both of Phoenix. She joined the CCIA Conservation Committee, which taught living with the desert. First a 'plant parent' for the Desert Foothills Scenic Drive, then Jo was chairman of the Drive. Next a board member of the CCIA (Cave Creek Improvement Association), then President. Manager of the Cave Creek Cemetery was another volunteer job she took on for several years. Ed and Jo both worked hard with the Committee to incorporate the Town of Cave Creek. Upon incorporation, Jo was a member of the first Planning and Zoning Commission for a number of years.

Being diagnosed with thyroid cancer was another turning point in Jo's life. Despite health issues, she and Ed discovered a love of cruising. Their more than 20 cruises together included trips to Mexico, Alaska, Hawaii, the Panama Canal, many Caribbean Islands, transatlantic cruises from Galveston to Rome and Barcelona, including stops in Casablanca and Gibraltar, and a river cruise along the Danube. They also enjoyed several lengthy driving trips through Ireland.
Volunteering with ThyCa: Thyroid Cancer Survivors' Association, Jo became a member of the Board. Ed was also an active volunteer at the annual conferences of ThyCa. When Jo's cancer recurred, they made numerous trips to MD Anderson Cancer Center in Houston, Texas.

Left behind are her sisters Jeanne Morin of Glendale, Ariz. and Barbara Schneider and her husband Clarence of Cecil, Wisc., brothers Dennis and his wife Marjory of Renton, Wash. and Michael and his wife Carmel of Surprise, Ariz., and as well as many nieces and nephews and their families and friends in Arizona, nationally and internationally.

Jo was looking forward to being reunited with the love of her life, Ed, who had died December 8, 2007.