BY LINDA BENTLEY | APRIL 10, 2013
Carefree selects new town clerk
Carefree residents who have concerns about hunting within the town are encouraged to attend this hearing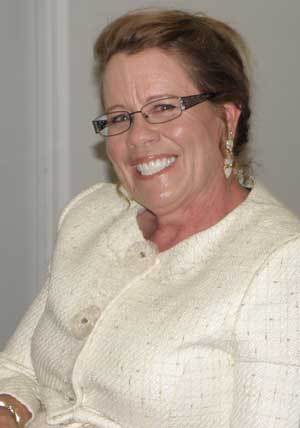 CAREFREE – Following an executive session during which council interviewed the final two applicants for the position of town clerk/treasurer, narrowed down from a field of 14 and then five, council selected Kandace French (r).

French will begin employment with the town on May 20 and assume the duties of town clerk/treasurer effective June 17, upon Town Clerk Betsy Wise's retirement.

During Call to the Public, Holly Bergman thanked council for its support, PR support and letting her two young granddaughters lead the Pledge of Allegiance.

She said the Beatles Block Party in Carefree was a great success and some business owners claimed their best sales "ever."

Desert Foothills Library Executive Director David Court also spoke to correct information he provided council last month when he stated there were only 300 library card holders in Carefree.

Court said there are 6,650 card holders of which 1,112 (17 percent) are Carefree residents. He said 300 is the number of Carefree residents who donate to the library.

The mayor announced there would be a special budget workshop meeting at 4 p.m. on April 16.
After Town Accountant Jim Keen provided the financial information for February, Mayor David Schwan pointed out total tax revenue was down 9.38 percent through February from last year.
The downturn continues to be in construction and another category that cannot be made public due to privacy laws.

Council voted unanimously to approve a special event liquor license for the American Parkinson Disease Association on Oct. 19 for an event in the Carefree Gardens as well as a road closure on Easy Street for an event on Oct. 29 for the MG Car Owners Association, part of a week-long a gathering of international MG car owners at the Carefree Resort.

The town also approved a road closure of Ho Hum Road from 7 a.m. to 4 p.m. on April 20 for an Earth Day Expo. Town Administrator Gary Neiss said the town has skipped a year of holding the popular event.

DJ Stapley introduced an ordinance to create a new Open Space-Recreation (OS-R) zoning district for some of the land recently acquired by the town for open space, which was unanimously approved by council.

Neiss explained there is "currently no tool in the toolbox" to put in trails or other amenities under the town's residential zoning categories plus, he said, the zoning category would give citizens the assurance the land will be kept as open space in perpetuity.

Council also approved an ordinance that would have the members of the planning and zoning commission act as members of the board of adjustment to apply only to the mountainside development section of the zoning ordinances.

According to Neiss, this will shorten the process for review and appeals to a single-step process, whereas variances will be heard directly by the board without a preliminary hearing. This would make the planning and zoning commission serve as the board of adjustment as well as the development review board.

Appeals would then go to town council.

Neiss said the purpose was to try to remove politics from the process, while pointing out the town doesn't have a large enough pool of people to fill seats on that many separate boards.
Following a complaint by a resident, the town of Carefree petitioned Arizona Game and Fish Department (AGFD) in February to restrict hunting within the town.

After completing its administrative review of the town's request, it has scheduled a public hearing at 8 a.m. on Saturday, April 13 at AGFD headquarters located at 5000 W. Carefree Highway, Phoenix.

AGFD staff is recommending future hunts for deer and mountain lion adopt a new rule for Carefree that would restrict archery hunting for deer and mountain lion within ¼ mile radius from any Carefree residence.

Subsequently, similar rules for future javelina hunts will be presented and considered at a separate public hearing.

According to Carefree town officials, AGFD staff feels confident the proposed new rules will effectively prohibit archery hunting south of the Rowe Wash with the town and address concerns raised by the resident.

Carefree residents who have concerns about hunting within the town are encouraged to attend this hearing.