APRIL 10, 2013
Cycle the Arts and celebrate Valley Bike Month
Participate in Bike to Work & School Day too!
Hop on your bike and get a personal look at some of the Valley's best public art at the 8th Annual Scottsdale Cycle the Arts event Saturday, April 13, starting at the Scottsdale Civic Center Library, 3839 N. Drinkwater Boulevard. In addition to featuring public art in Scottsdale, this year's event offers a second public art route to Tempe and Phoenix.

The Scottsdale route is free and fun for the entire family. Learn interesting facts about each public art piece along a guided six-mile loop from artists and knowledgeable speakers. The ride includes five major stops in the downtown area and along the Indian Bend Wash Path. Participants will receive a free Valley Metro Bike Month t-shirt.

Registration starts at 8:30 a.m. with small groups of riders departing at 9 a.m. Helmets are required. After the ride, participants can:
• Head inside the Scottsdale Civic Center Library to watch artist Luster Kaboom's progress as he paints in preparation for Scottsdale Public Art's next exhibition at the library's gallery.
• Leave Scottsdale Civic Center Library on a guided 16-mile roundtrip to Tempe and Phoenix that includes a light rail ride, stops at additional InFlux art installations and the Feast on the Street event by artists Clare Patey and Matthew Moore. Each group will have a ride leader, however; riders choosing to remain in Phoenix for the Feast on the Street event must return on their own. Riders must bring their own transit pass or money for light rail fare.

Cycle the Arts is presented by the City of Scottsdale Transportation Department and the Scottsdale Cultural Council. Visit Scottsdale Public Art for more information.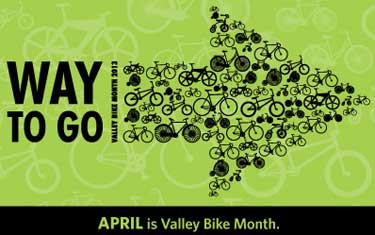 April is Valley Bike Month and Cycle the Arts isn't the only event happening in Scottsdale to celebrate cycling. Leave your car behind and take part in Bike to Work & School Day on Wednesday, April 17. Groups will depart at 7 a.m. from two locations and ride to downtown Scottsdale. North Scottsdale riders will meet at Mountain View Park, 8625 E. Mountain View Road. In South Scottsdale, riders will meet at Vista del Camino Park, 7700 E. Roosevelt Street. Helmets are required. Participants will receive a free Valley Metro Bike Month t-shirt and will be eligible to enter the Valley Bike Month Contest for prizes. For more information, contact Susan Conklu at sconklu@scottsdaleaz.gov.

For additional 2013 Valley-wide Bike Month events, visit SharetheRide.com.