APRIL 3, 2013
Terravita Art League Raffle resulted in a $2000 donation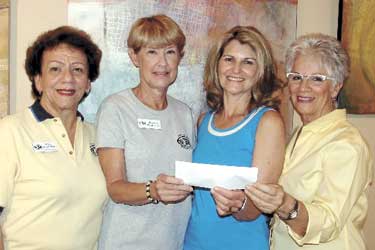 Foothills Food Bank Exec. Director Pam DiPietro and Board President Jeanne Panhorst, Terravita Art League President Dottie Novak and former President, TAL Board Advisor Rita Flynn. Courtesy photo




NORTH VALLEY –The Foothills Food Bank wishes to offer a huge "thank you" to the community and an enormous "please" to continue your generous support.

For the first time in their 25 years, the food bank has had to borrow money – a loan on which they are paying interest. In order to return to using available funds to help members of the community and not pay interest, the goal is to raise an additional $500,000 which will pay off the loan for the building and give them a wee bit of an operating cushion for when donations slow down but demands don't.

Their efforts are always focused on offering food and help to those in need in our community – now serving 350 to 375 families each month. At present, they are also working diligently to complete necessary remodeling and installation of shelving and storage equipment in the new location on Hidden Valley Road in Cave Creek.

Our community has been most supportive and they need our continued support, with both donations to allow them to continue to serve and donations to eliminate mortgage loan and interest and remodeling costs.

Summer will be difficult because our population decreases as many of our residents visit cooler parts of the country. It will be of significant help if those of you who aren't with us this summer remember the food bank. When you write out checks at the beginning of each month, please write a donation check for the food bank to help ensure they are able to assist needy families all summer long. Your building fund donations are critical so the money currently being spent on interest on the debt for the building can again be spent on helping the needy.

Your donations are greatly needed and truly appreciated. Please visit SonoranNews.com or FoothillsFoodBank.com for a Building Fund Donation Pledge Form. You are welcome to send donations directly to Foothills Food Bank, P.O. Box 715, Carefree, AZ 85377 or donate online by clicking on the donate button on the food bank home page.