BY LINDA BENTLEY | APRIL 3, 2013
So, for Cave Creek's runoff election, it looks like the fat lady has sung, guaranteeing Chutz's slate of candidates a majority on council
CAVE CREEK – On Tuesday, Maricopa County Superior Court Judge Lisa Daniel Flores sided with Plaintiff Gerald Freeman, who filed a complaint to boot Councilman Dick Esser from the ballot, after Esser decided to rescind his withdrawal from the campaign, awarding Freeman taxable costs and reasonable attorneys' fees.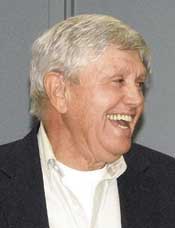 Councilman Dick Esser (l), who previously withdrew his candidacy from the general election along with council members Shelley Anderson and Jim Bruce, had a change of heart and decided to remain in the race.

Councilman-elect Adam Trenk referred to Esser's change of heart as "a most bizarre turn of events" and stated, "[A]pparently the town manager, Usama Abujbarah intervened and has convinced Dick Esser not to withdraw from the race after all."

Esser was having lunch with a friend who convinced him to remain in the race, so he contacted Town Clerk Carrie Dyrek from the restaurant to find out if he could rescind his withdrawal.

Dyrek, in turn, contacted Maricopa County Elections, who informed her it was up to the town manager.

Abujbarah had no objections, so Esser was back on the ballot seeking reelection along with Councilman Thomas McGuire against a slate of challengers that includes Mike Durkin, Reg Monachino, Charles Spitzer and Eileen Wright.

Meanwhile Mike Chutz, the Sewickley, Penn. resident who, for reasons still unknown, supports the slate of challengers to replace town council, was sending E-mails to McGuire requesting he withdraw from the race for "the good of the town."

Chutz's E-mail to McGuire can be read in its entirety in last week's "My View" column.

Esser said Chutz's e-mail to McGuire was one of the reasons he changed his mind about withdrawing.

Last Wednesday, Freeman, who supports Chutz's slate of candidates, filed a complaint against Esser, Maricopa County, Dyrek and the Cave Creek Town Council to have Esser removed from the ballot.

Freeman decided to use Attorney Tim La Sota, who successfully represented Trenk in Rob Papineau's complaint challenging Trenk's residency requirements to appear on the ballot.

Freeman's lawsuit contends Dyrek followed the procedure for withdrawal set forth in A.R.S. § 16-343(F).

Because there's no statutory provision for precluding a candidate from rescinding a withdrawal, Freeman claimed Dyrek has no legal authority to reinstate Esser on the ballot.

La Sota stated, "There is not much Arizona case law on this matter that is helpful, but again, the statutes seems to answer this question by itself," and cited a 2008 case out of Kentucky.

Noting in his application for order to show cause, La Sota states Kentucky's form of the statute "may not be the same as Arizona statute, in substance they are the same."

Kentucky's statute is markedly different from Arizona's in that it requires a candidate to submit a statement to the secretary of state in writing, signed and notarized that he will not accept the nomination or election and the secretary of state "shall not certify his name."

La Sota also noted the Kentucky court pointed to a fairness problem created by candidates who withdraw from races and then seek to jump back into them and wrote: "Quite aside from the implications for the candidate who withdraws his name from consideration, there are consequences for the opposing candidate who is entitled to rely upon his or her opponent's filing of a properly notarized notice of withdrawal. The opposing candidate may have suspended campaigning or fundraising only to find that the withdrawn candidate has decided to jump back in the race. The impact of these considerations are more properly assessed and addressed by the General Assembly which presumably did not see fit to provide a mechanism for rescission."

Referring to Esser's rescission as an "opportunity for unfair gamesmanship," La Sota said "It is better to avoid this altogether …"

La Sota is the same attorney who argued on Trenk's behalf that Trenk's lack of residency in Cave Creek for the requisite year prior to the election, a period of time that Trenk was actually living in Scottsdale and had his house in Cave Creek leased out, would mean no one could ever take a vacation and run for office.

The court decided Trenk should remain on the ballot, not because the section of statute he cited was applicable, but because Trenk intended to reside in Cave Creek.

In the Kentucky case the candidate wanted to get back in the race 38 days after withdrawing, while Esser changed his mind within less than 48 hours.

According to Councilman Steve LaMar and Councilwoman Shelley Anderson, Trenk, who previously called the council members who withdrew from the race "cowards," now appears to be behind getting Esser removed for changing his mind and deciding to run.

With only Mayor Vincent Francia and Vice Mayor Ernie Bunch reelected in the March primary, Chutz, who seeks to take over the town through his slate of council candidates, may have his way even if McGuire is reelected.

Oral arguments were heard at 1:30 p.m. on April 1 before Flores, who took the matter under advisement.

While Freeman sat quietly at the plaintiff's table with his attorney throughout the entire hearing, Chutz was called to testify for the plaintiffs.

Chutz claimed Esser did irreparable damage to the challenging slate of candidates.

However, during cross examination, when asked if he was a resident of Cave Creek, Chutz said he was not but planned to move there. When asked if he was registered to vote in Cave Creek, Chutz said he was not.

Because Flores found no statutory authority for Dyrek to accept Esser's rescission of his withdrawal of his candidacy, she did not consider Chutz's testimony.

Back in November 2012, Chutz received a criminal traffic citation in Chandler for criminal excessive speed, no registration and no insurance.

He was arraigned on Jan. 7 with his pretrial conference scheduled for Feb. 25.

According to clerk of the San Marcos Justice Court, Chutz continued his pretrial conference to March 25 and again to April 22.

Chutz was, however, able to appear in court on Monday to testify in the proceedings relating to Esser's candidacy for Cave Creek Town Council.

So, for Cave Creek's runoff election, it looks like the fat lady has sung, guaranteeing Chutz's slate of candidates a majority on council.