APRIL 3, 2013
Big Bronco to celebrate Lucky 13th Anniversary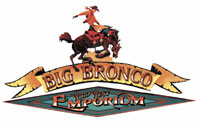 CAVE CREEK – Some things you just don't want to miss. Big Bronco's Lucky 13th Anniversary is absolutely not to be missed and you are invited. Their Anniversary Sale always means great prices and fun Western evens for the entire family. Triple R Horse Rescue and Arizona Equine Rescue receive a percentage of the monies earned over the weekend to help offset the cost of caring for their rescued animals – a real incentive to make plans now to attend.

The big anniversary sale offers fantastic savings on Furniture, Wall Art, Clothing and accessories throughout the store. Browse through Cave Creek's most eclectic mix of home décor for just the right bargain to set off your favorite room, at Big Bronco Wild West Emporium and Furniture Barn.

Big Bronco kicks off their Lucky 13th Anniversary with an invitation for serious shoppers to beat the crowd by taking advantage of sale prices all day Friday, April 26. Doors open at 10 a.m.
On Saturday, April 27 J-Licious taco truck will be serving lunch with a purchase. Triple "R" Horse Rescue tack sale will take place on the property starting at 10 a.m. Enjoy singer Steve Shockley as he entertains with great country guitar from 1 – 4 p.m.

Sunday There will be great activities for kids with adoptable horses from Triple R Horse Rescue and Arizona Equine Rescue from Noon – 3 p.m.

Please come out to Big Bronco for lots of fun and great sales in the heart of Cave Creek.

Watch for details in their ad in the next issue of Sonoran News!

Big Bronco is at 6602 E. Cave Creek Rd. For info call General Store, 480-575-7025, Furniture Barn, 480-575-1357 or visit www.bigbroncocavecreek.com.