BY MARIELLE D. MARNE | MARCH 20, 2013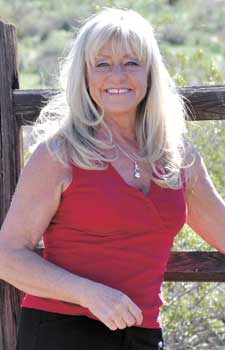 CAVE CREEK – The mindset about massage is evolving and Gail H. Garrett is glad. Garrett, a licensed massage therapist with over 25 years experience, knows massage is a pathway to achieve and maintain optimal health on every level - mind, body, spirit - and should not merely be considered a girls' night out novelty or only as a post-accident treatment. "It's far more than a luxury," she assured.

Benefits of massage? It improves circulation, tones muscles, stimulates immune system, aids in digestion, and promotes an overall sense of well-being. When Steve Moore opted to try massage for an aching shoulder, he commented, "The pain was greatly reduced and my range of motion is much, much better. I'll tell you, too, it really lowers the blood pressure." Effective AND relaxing, why isn't everyone on this program?

It is evident Garrett loves her work. After segueing into massage therapy, she knows this is her life's work, her calling. She assures clients are comfortable and encourages them to speak up if she hits a tender spot or if something is really hitting the spot.

And parents, remember, teens involved in sports will benefit from massage and could extend their playing days if they aspire for the pros. Even kids who are hyperactive or having trouble sleeping can be helped. It's not only for adults. "Babies in the womb to people in their eighties can be healthier and happier through therapeutic massage," Garrett explained. With any treatment, add enhancements - hot stones, aromatherapy, mint foot scrub – for a nominal fee.

Visit online at GailHGarrettLMT.com to book an appointment or call 480-209-5453. Gift certificates and massage packages are available, as are home sessions. Office: 6042 E. Valley Way, Ste. 4, upstairs behind the old Cave Creek Coffee Co.