BY LINDA BENTLEY | MARCH 27, 2013
Cave Creek/Carefree Transportation Framework Study to begin
'Our focus will be to engender a team atmosphere … to build buy-in for the final recommendation'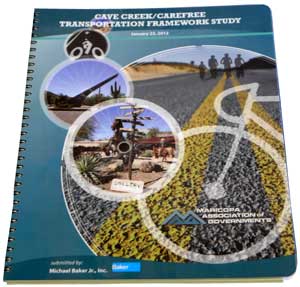 CAVE CREEK – Maricopa Association of Governments (MAG) selected Michael Baker Jr., Inc. (Baker) as the successful bidder to perform the Cave Creek/Carefree Transportation Framework Study.

Baker's proposal acknowledged the shared expectations of both towns to continue the development of the regional bike network on Cave Creek and Pima roads and Tom Darlington Drive, as well as develop a community bike loop around Black Mountain that will enhance associated economic activity.

The study will also seek to develop bicycle and pedestrian linkages between the two town centers and develop strategies to improve access, parking and pedestrian safety for the multiple special events held in both towns throughout the year.

Baker boasts the ability to achieve creative solutions through extensive public and stakeholder outreach, by having excellent relationships with MAG and both towns, as well as having in-depth local knowledge and appreciation of the local context, environment and culture.

Baker has put together a team of subconsultants that includes Harrington Planning + Design, which recently completed the MAG Town of Cave Creek Bike Study; Exponent, an engineering and scientific consulting firm; Gunn Communications, Inc., a public involvement firm; and ESI Corporation, a multi-disciplinary economic development consulting firm.

The purpose of the study is to develop a comprehensive transportation master plan, or transportation framework, to guide the transportation development of the two towns, which, as Baker notes, "have individual identities but share common interests."

According to July 2011 U.S. Census Bureau estimates, the populations of Cave Creek and Carefree are 5,100 and 3,800 respectively.

Both communities have primarily low density residential development, with growth potential for the town of Cave Creek west of Cave Creek Wash and north of Carefree Highway.

The Cave Creek commercial core has been developed in a linear manner along Cave Creek Road, which Baker called a "heritage business district" centered on the area known locally as the "Barmuda Triangle," derived from three very popular eating and drinking establishments, identified as Harold's Corral, Buffalo Chip Saloon and Hideway Grill.

Baker points out Carefree has an "inward facing" commercial business district that lacks exposure and visibility to the major arterials, making "wayfinding/trailblazing and signage" important for continued economic development.

The intersection of Carefree Highway and Cave Creek Road has become a new business core with intertwined town limits.

Acknowledging both towns sponsor very popular and well attended special events throughout the year, Baker noted neither town's designs are able to adequately accommodate parking and pedestrian needs.

Baker acknowledged other problematic areas and will take an approach to solutions through a highly visible and extensive outreach to interested stakeholders and the public in general.
They anticipate public meetings, workshops with special interest groups, council briefings, electronic surveys and special event surveys.

The 18-month span of the study allows the team plenty of time for special event visitor surveys in the fall through spring.

The Baker Team will consider the small town culture of Cave Creek and Carefree in its approach with a goal of making the framework study a community plan rather than a Baker plan and stated, "Our focus will be to engender a team atmosphere; Baker working in conjunction with MAG, the towns and the community to build buy-in for the final recommendation."

Cave Creek Councilman Dick Esser, through his small communities coalition at MAG, was able to procure the $250,000 in funding for the framework study with nominal contributions of $5,000 each from Cave Creek and Carefree.