BY LINDA BENTLEY | MARCH 20, 2013
Johnson, Blaylock-Walls followed a FedEx vehicle and watched as the driver rang the doorbell, which went unanswered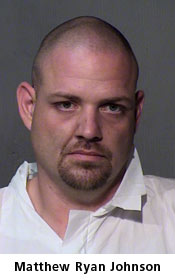 PHOENIX – After a trial by jury, Matthew Ryan Johnson, 34, was found guilty on five felony counts including: burglary, attempt to commit burglary, theft, possession/use of dangerous drugs, and possession of drug paraphernalia, each with one prior felony conviction.

On Feb. 22, Johnson was sentenced to a range of 1 year to 3.5 years for each of his crimes to be served concurrently, with presentence incarceration credit of 288 days.

His accomplice, Shane Blaylock-Walls, 30, after a two-week jury trial, was found guilty on three felony counts including: burglary, attempt to commit burglary and theft, each with multiple prior felony convictions.

On March 8, Blaylock-Walls was sentenced to 10 and 11.25 years for each of his crimes to be served concurrently, with presentence incarceration credit of 302 days.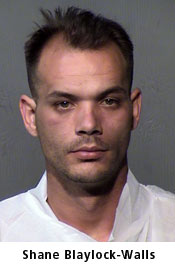 Johnson and Blaylock-Walls are also being held jointly responsible for paying $300 in restitution to one of their victims.

Maricopa County Sheriff's deputies picked up Johnson and Blaylock-Walls on May 9, 2012 when the red Ford Escape they were driving matched the description and license called in by a woman who narrowly escaped becoming a burglary victim.

Apparently Johnson and Blaylock-Walls were following a FedEx vehicle and watched as the driver rang the woman's doorbell, which went unanswered, and left the package.

Johnson and Blaylock-Walls then went to the door, picked up the package and rang the doorbell.

However, this time the homeowner answered the door only to find Johnson and Blaylock-Walls standing there holding her FedEx package.

She asked them what they were doing with her package and they asked her if someone she never heard of was home.

They put her package down and left, but the homeowner found their behavior suspicious, jotted down make and model and license plate number of their vehicle and called the incident in to MCSO.

About an hour later, a deputy noticed a red Escape in the vicinity of Cave Creek and New River roads and, after verifying the license plate, pulled it over.

He found Blaylock-Walls to be driving on a suspended license, while Johnson, the passenger, had an active arrest warrant from another municipality.

As they were being arrested, Johnson was found to be in possession of methamphetamine along with an engraved pocket watch and five pawn tickets in his pocket.

The victim had not yet returned home from work at the time the suspects were pulled over.
When she did, only to find her home had been burglarized and all her jewelry stolen, she described a pocket watch inscribed with her grandmother's name and the year 1836 to MCSO as being amongst her stolen missing jewelry.

MCSO determined it was the same pocket watch Johnson had in his possession at the time of his arrest.

Deputies also found a pillow case on the floorboards under the passenger seat of the Escape containing all the jewelry taken during that burglary.

Although these two have been incarcerated since their arrest last May, Cave Creek and Carefree remain plagued by burglaries.

MCSO Detective Steve Horath encourages people to keep their valuables locked up in a safe or in atypical places and to call 911 if they see anything or anyone appearing suspicious.

While it may not seem to be an emergency, Horath said deputies will not respond if they have something more pressing going on, but if there isn't, it could provide them with enough probable cause to question someone and possibly be the key to catching another burglar.

Horath urges citizens to be cognizant of what's going on in their neighborhoods and report any unusual activity.

The woman who reported suspicious behavior in this case, helped MCSO put Johnson and Blaylock-Walls behind bars.