MARCH 20, 2013
2nd Mystery Car Rally Set for Sunday, April 14
Benefit offers fun-packed chance to explore unique places, win prizes
SCOTTSDALE – Where is the shopping center named for the top of mountains? What road is named after TNT? Where can you find an old stagecoach stop? Are you ready for a very enjoyable Sunday drive?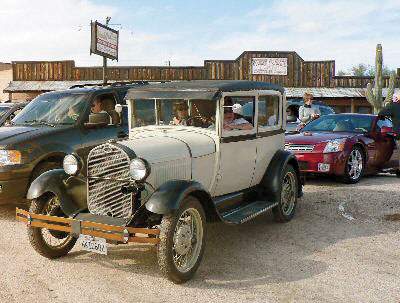 Then, gather a team to participate in the 2nd Mystery Car Rally" on Sun., Apr. 14 from 2 p.m. to 5 p.m. throughout North Scottsdale, Carefree, and Cave Creek. Hosted by Greater Pinnacle Peak (GPPA) – Friends of the Scenic Drive, this fun scavenger hunt will take you and your team to unique places amidst a magnificent desert setting. To register, visit www.gppaaz.org or www.scenicdrive.org (click on Mystery Car Rally) or call 480-361-6498.

The rally will start at the Pima Norte Shopping Center, located on the southwest corner of Pima and Cave Creek Roads in North Scottsdale. Teams will receive an initial set of clues to begin their journey to find interesting "mystery" destinations. At each destination, you'll answer a question about that location, receive a poker card, and get clues to find the next location. Then, you're off on another exciting quest for a different destination. Bring your camera along for the ride and join the free photo contest, exclusively for rally registrants. Prizes will be awarded for best photographs.

Rally points will be given to the team based on answers to questions and the strength of its poker hand. The team that wins the grand prize will release a rehabilitated great horned owl with the assistance of Wild At Heart.

The event will end at a central location. Teams can stay to enjoy the awards ceremony, owl release, raffle, and optional food and cash bar.

Rally registrations are tax-deductible. Early registration, on or before April 7th: $ 25 donation per adult, $ 5 donation per child (12 & under). Late registration, after April 7th: $30 per adult, $ 5 per child. Payment may be made by check (payable to GPPA) or by major credit card via phone or online. For information and registration, visit www.gppaaz.org (click Mystery Car Rally) or call GPPA-Friends of the Scenic Drive at (480) 361-6498.

All team members must be registered to participate. Teams of four or more members are recommended. There is a limit on the number of teams that can participate, early registration is encouraged.

The Greater Pinnacle Peak Association, a 501 (c) 3 nonprofit, produces the Mystery Car Rally; proceeds support preservation, education, and the Desert Foothills Scenic Drive.