MARCH 20, 2013
Arizona Game and Fish Outdoor Expo is March 23-24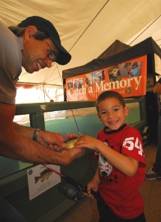 PHOENIX - The Arizona Game and Fish Department Outdoor Expo will be held on Saturday, March 23, and Sunday, March 24, at the Ben Avery Shooting Facility in Phoenix. The free event offers loads of activities, presentations and exhibits for everyone ranging from novices to seasoned outdoor recreationists.

The Expo has come a long way since its inception, growing from 1,000 attendees in 2004 to 33,000 last year.

Some of the things attendees can do include:

View live wildlife exhibits (hawks, reptiles, small mammals, more).

Take the kids to two huge catch-and-release fishing tanks (sponsored by the U.S. Fish and Wildlife Service).

Learn target archery.

Try out different firearms in a safe, controlled environment on the shooting range, or learn specialty shooting disciplines such as clay target, cowboy action, practical pistol, black powder, air gun, and more.

Learn from informative talks on topics such as Arizona's raptors, urban fishing, turkey hunting, Arizona's reptiles, wilderness survival, and setting up the perfect hunting bow.

Attend exciting cowboy mounted shooting competition at the Royce W. Anderson Family Arena.
Visit the Cabela's Outdoor Experience and get a photo taken with life-size cutouts depicting fishing, hunting, camping or backpacking, or see the latest optics gear, or experience an interactive bowhunting scenario with pop-up blinds and decoys.

See fishing demos and get tips from pros at the Fishing Demonstration Tank (sponsored by Sportsman's Warehouse).

View off-highway vehicle exhibits, the ATV simulator, and rock crawler demonstrations, and learn about safe, responsible OHV operation.

Check out boating exhibits and learn about watercraft safety.

See hunting/sporting dog demonstrations.

View thrilling clay target shooting demonstrations by exhibition shooter Tim Bradley (brought to you by Benelli).

Visit with more than 150 exhibitors, including outdoor organizations, government agencies, and commercial vendors of outdoor products and services.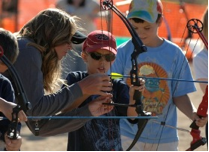 Admission and parking are free, but people might want to bring a little cash for the variety of food and beverage concessionaires and other vendors.

The Gold Sponsor for this year's Arizona Game and Fish Department Outdoor Expo is Cabela's.

"Cabela's Glendale is very proud and honored to be the Gold Sponsor of the 2013 Arizona Game and Fish Department Outdoor Expo," said Enrique Mendez, general manager of the Cabela's store in Glendale, Ariz. "We are very excited to introduce outdoor activities to families here in the Valley and hope that they all enjoy themselves at the Expo."

Outdoor Expo hours are 9 a.m. to 5 p.m. on Saturday, March 23, and 9 a.m. to 4 p.m. on Sunday, March 24.

The Ben Avery Shooting Facility is located at 4044 W. Black Canyon Blvd. in Phoenix (located on Carefree Highway, about 1/2 mile west of I-17 -- just follow the signs).

The Arizona Game and Fish Department is operated on a "user pay, public benefit" business model. The Outdoor Expo promotes wildlife-related and other outdoor activities to the public, which supports the department's mission and funding through their engagement in those activities. The department receives no Arizona tax dollars, and no tax dollars are used in conducting the Expo.

For more information, visit www.azgfd.gov/expo.