MARCH 20, 2013
Desert Foothills Theater presents ... "All My Sons" March 21 – 30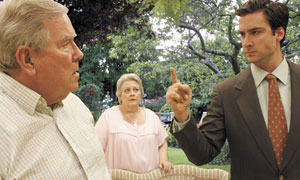 CAVE CREEK – Desert Foothills Theater (DFT), a program of the Foothills Community Foundation, presents "All My Sons" running Thurs., March 21 through Sat., March 30 in Cactus Shadows Fine Arts Center intimate Box Box Theatre, 33606 N. 60th Street, in North Scottsdale.

Directed by Ann Tully, this modern classic and Arthur Miller Tony award-winning masterpiece weaves a brilliant and compelling story about two families in the aftermath of World War II.

Joe Keller and Steve Deever were once united in business but are now torn apart by an unspeakable crime. When Joe's son, Chris, proposes to Steve's daughter, Ann, he unleashes a flood of family secrets and hidden skeletons that will forever change both families. An unforgettable family drama about loss, love and loyalties that escalates to an electrifying climax.

Performances are at 7:30 p.m. Thursday through Saturday and at 2 p.m. on Saturdays and Sunday. Tickets range from $25-$30 for adults and $15-$18 for youth and students. Ticketing fees apply.

Visit www.desertfoothillstheater.org or call 480-488-1981.