MARCH 13, 2013
Elisabeth Lee Garrison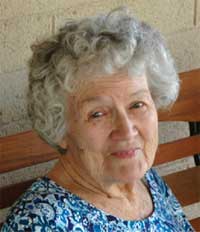 Elisabeth Lee Garrison passed away in the Hospice of the Valley Eckstein Center in Scottsdale on February 28, 2013, after suffering a severe stroke. Known to her friends as Betty, she was born on October 12, 1922 in Cleveland, Ohio, but spent most of her early years in Hagerstown, Maryland. She was the daughter of John and Madeleine Long of Hagerstown, Maryland, and wife of Lieutenant Colonel Donald H. Garrison, U.S. Air Force (Retired) who passed away 10 years ago. She had been a resident of Cave Creek since 1969.

Betty was a registered nurse, military wife and devoted mother of four sons. During her 28 years as an Air Force spouse, she traveled to numerous locations within the U.S. After her husband returned from China at the end of World War II, the family was assigned to numerous military installations within the U.S. and overseas assignments in Guam (1955-57) and Iran (1964-66). Assignments overseas allowed her and her sons to travel to Kwajalein Atoll and throughout Europe, including, Italy, Greece and Spain.

After her husband retired from the Air Force in 1968, the family moved to Cave Creek. She became the school nurse for the original Cave Creek School on School House Road, ultimately retiring in 1988 as the Cave Creek School District Nurse after serving over 17 years. Betty enjoyed the outdoors, traveling, sewing and above all else her family. She was a passionate supporter of the Desert Foothills area and was a member of the Cave Creek Incorporation Committee which secured incorporation of the town in July 1986. She was a member of the first Cave Creek town council, serving one term.

Betty is survived by her four sons: Brigadier General John Garrison, U.S. Air Force (retired) and family of Ashburn, Virginia; Stuart Garrison and family of Cave Creek; Dr. Rosser Garrison and family of Sacramento, California; and Colonel Michael Garrison, U.S. Army (retired) and family of Leesburg, Virginia. Betty had ten grandchildren and three great grandchildren.

A memorial is planned for later in the spring when the entire family will be able to be present. The family requests that in lieu of flowers, contributions be made to Hospice of the Valley, www.hov.org/donate, 1510 E. Flower Street, Phoenix, AZ 85014-5656 or 9808 N. 95th Street, Scottsdale, AZ 85258-4608.