BY LINDA BENTLEY | MARCH 13, 2013
Library seeks town donation as Carefree begins budget process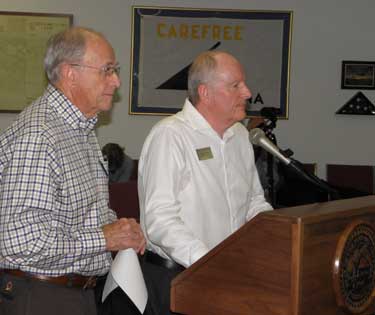 Following their presentation about the Desert Foothills Library, President Greg Gardner (l) and Executive Director David Court made a pitch to Carefree Town Council for a donation as the budget process gets underway.

Photo by Linda Bentley






CAREFREE – After Town Accountant Jim Keen made his monthly financial presentation Mayor David Schwan displayed a report of total tax revenue comparing FY 2011-2012 ($1,591,180) to FY 2012-2013 ($1,452,576) through Jan. 31, 2013.

The report indicated total tax revenue was down by a total of $138,604 or 8.71 percent.
Schwan explained retail and restaurant revenues, although there are fewer restaurants and retail stores this year, remained roughly the same.

The biggest hits came from construction tax revenues, which were down by $74,795 (23 percent) and another category which was down by $51,608 (31 percent).

Desert Foothills Library (DFL) Executive Director David Court made a presentation to council on the status of the library.

Court said the library was originally established in 1954 and celebrated its 59th anniversary on Feb. 14.

DFL has been at its current location on School House Road since the mid 1970s. It has recently been expanded to a 19,000 square-foot "multi-purpose facility," operating with an annual budget of $640,000.

According to Court, it costs $1,800 per day to operate the library, which is open 355 days per year.

He said the library has two "very active librarians," one for adults and one for children with 7,400 library card holders.

Only 300 of the library's patrons are from Carefree, while the majority are from Scottsdale.
Court said the library has become "so much more than a library," as digital media becomes more available, and has "become very much a gathering place in the community," much like a community center.

While he said it never ceases to amaze him how generous the community is, Court said the target for donations is $250,000 this year and hoped the town would consider budgeting a contribution to the library.

Greg Gardner, president of library board also spoke about the library's interaction with various nonprofit organizations in the community and said they were the "glue that holds the community together," and pointed out the town donated $100,000 to preserve Spur Cross Ranch Conservation Area in Cave Creek.

Gardner asked the town to budget for a contribution to the library by either taking a percentage of sales tax revenue that exceeds their budget or unused funds from the contingency account.
With Councilman Marty Saltzman absent, council voted unanimously to approve a recommendation to change the agent for Desert Forest Golf Club's liquor license and a special event liquor license for Carefree Resort in support of Aunt Rita's Foundation on March 23.

Council also voted unanimously to approve an intergovernmental agreement (IGA) between the town and Maricopa Association of Governments for the Cave Creek/Carefree Transportation Framework Study.

Town Administrator Gary Neiss called the IGA boilerplate but necessary to continue with the framework study.

Council also voted unanimously to approve what Neiss also called a boilerplate IGA between the town and Maricopa County for Regional Operations Management and Disaster Services.

Neiss said it was an IGA currently in effect but the cost had gone up from $600 to $840.
Rural/Metro Fire Chief John Kraetz said the training provided to his staff was invaluable and the money was well spent.