MARCH 13, 2013
Jerry Sieve Photo Exhibition Celebrates Desert Foothills Land Trust Preserves
CAVE CREEK/CAREFREE/SCOTTSDALE – Over the last 18 months, photographer Jerry Sieve has been using traditional photography techniques to photograph Desert Foothills Land Trust preserves in order to highlight these unique natural lands. "The opportunity to utilize Jerry's photographic skill to highlight the Land Trust's conservation work is an unprecedented opportunity to reach a wide audience with a message of land conservation," says Land Trust executive director Sonia Perillo.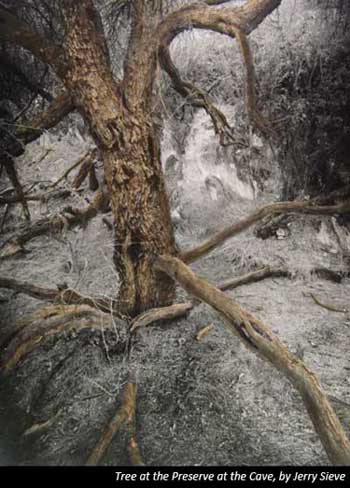 Jerry scouted opportunities at various preserves in order to determine the best time of day to make an image. After an area was selected, many visits were made to achieve his desired effect. He often used long exposures or selective focus to project a particular idea into an image. All the exhibition photos are selenium-toned, which increases the contrast in the shadows, and also increases the archival properties of the prints. Jerry made all the prints in a traditional dark room, and hand colored or applied metallic materials to highlight features.

Jerry estimates that 60 percent of his time preparing the exhibition has been spent in the darkroom making the negatives and prints, 30 percent of the time hand coloring, leafing, matting and framing the prints, and about 10 percent in the field making the images. Jerry adds that "Desert Foothills Land Trust areas project aspects of wilderness which I feel come through in these images. We are very fortunate to have such an organization in our area that is dedicated to protecting these ideals."

Jerry Sieve is a well-known photographer in Arizona, having been published in Arizona Highways, National Wildlife Federation Magazine, Sierra Club Magazine, and National Geographic. He has published five stunning books of photographs, and has exhibited widely at galleries and shows across the United States. He is a popular instructor at the high school and college level, and has led photography classes throughout the U.S. He has also been a volunteer judge of the Desert Foothills Land Trust Black Mountain Photo Contest, and has contributed photos to support the Land Trust's conservation work for many years.

"We are fortunate to have artists like Jerry who can help us tell our story of land conservation, and to celebrate the community's love of land," says Perillo. "We are also fortunate to have business partners like BMO Private Bank, who have generously sponsored this exhibition for all of us to enjoy."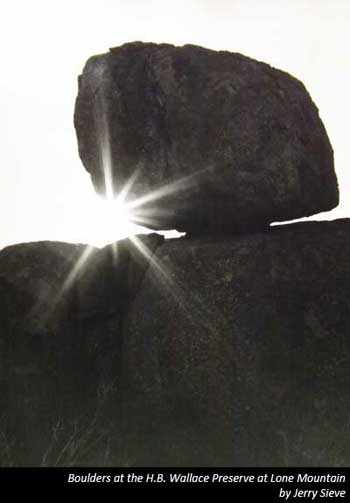 The Land Trust welcomes visitors to visit the exhibition at a public reception on March 15 from 6:30-8 p.m. at the Foothills Community Foundation Holland Community Center. The display can also be seen at the Community Center from March 15 through April 9, or at Desert Foothills Library from April 11 through May 31. It will reopen at the Cave Creek Museum in the fall.

Desert Foothills Land Trust works with landowners, communities and partners to protect the most special and important natural areas in the Arizona communities of Carefree, Cave Creek, north Scottsdale, north Phoenix, Anthem and New River. The Land Trust has permanently protected 660 acres on 21 preserves, many of which are open to the public for exploration and passive recreation. In 2010, the Land Trust was awarded accredited status by the national Land Trust Accreditation Commission – a mark of distinction in the land trust community. More information is available at www.dflt.org or 480-488-6131.